Electrical Equipment Industry
Damage to Electronic Components During Final Inspection of Electronic PCBs
Electronic PCBs are charged easily during transfer. When a PCB that has accumulated a charge during the transfer is sent to the inspection process and an inspection probe approaches it, electrostatic discharge (ESD) may occur between the probe and PCB, which can damage the electronic components mounted on the PCB.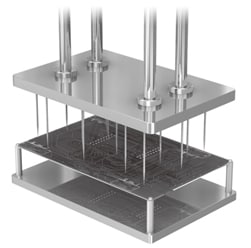 Conventional countermeasures
None
Decrease of the yield rate
Additional cost of electronic components damaged by ESD
Countermeasures with static eliminators (ionizers)
An ionizer can reduce the number of cases requiring re-inspection and improve the yield rate.
The cost of ESD damaged electronic components can also be reduced.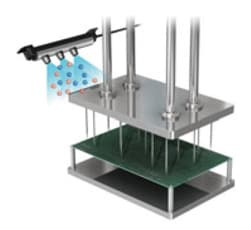 Improvements and Effects
Words from the worksite
Improved yield rate and reduced cost of electronic components
A conduction checker can be used for open and short tests.
Loss of electronic components: $2,000/year
In addition, there are other invisible effects such as improved reliability.