Glass & Rubber Industries
Adhesion of Foreign Particles and Electric Shock of Workers During Material Winding
In the calendar process for tire steel cord, the material is wound together with a polyethylene sheet, which generates significant electrostatic charges.
This causes adhesion of foreign particles and delivers electric shocks to workers. Using a static eliminator can eliminate these issues.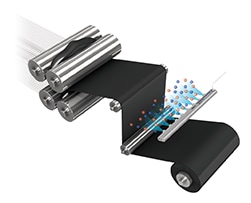 Conventional countermeasures
Static elimination brush
The elimination ability is insufficient and it is impossible to support faster lines.
Lint is generated by friction.
Countermeasures with static eliminators (ionizers)
Non-contact, high-speed static electricity elimination can support faster lines without lint generation.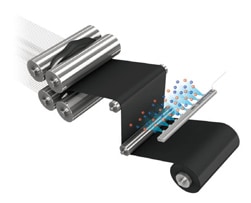 Improvements and Effects
Words from the worksite
Support of faster lines
The present method cannot support the line speed of 120 m/min or faster.
Consequently, it was crucial to find a solution.