Food & Pharmaceutical Industries
Jamming During Heat Seal Packaging
Heat seal packaging seals in contents by fusing films with heat.
The packaging film is charged with static electricity during roll transfer and the medicine is charged during transfer.
In the filling process, if the medicine adheres to the section to be heat-sealed, the medicine is jammed in the fused section, which prevents complete sealing.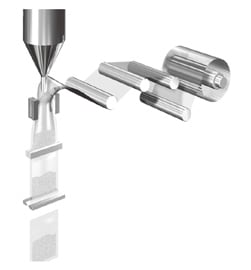 Conventional countermeasures
Inductive displacement sensor
Since problems are found after they occur, it is impossible to prevent defective products from being produced.
The operating ratio decreases.
Countermeasures with static eliminators (ionizers)
An ionizer can eliminate the need to dispose of defective products with jammed contents. Lot return of released products can also be prevented.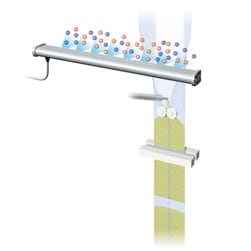 Improvements and Effects
Words from the worksite
Reduced disposal cost of defective products.
Defective rate of 0.5% x unit price of $1 x 5,000 pieces/month x 12 months = $30,000/year
Cost for disposing of lot returns: $200 x Once a month x 12 months = $2,400/year
In addition, there are other resulting effects such as improved levels of trust.