Electrical Equipment Industry
Damage to Electronic Components During Transfer of Electronic PCBs
In the transfer process, electronic PCBs are charged with static electricity by friction with or separation from the conveyor.
At the point where the PCB leaves the conveyor, the electrostatic capacitance of the PCB drops, resulting in an increase of the charging potential. This causes electrostatic discharge (ESD) which damages the electronic components mounted on the PCB.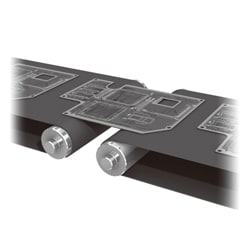 Conventional countermeasures
None
Disposal cost of defective products
Risk of the release of defective products
Countermeasures with static eliminators (ionizers)
An ionizer can reduce disposal cost and reliably prevent the production of defective products.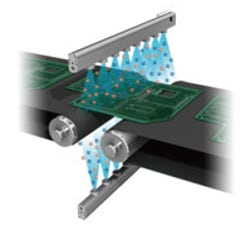 Improvements and Effects
Words from the worksite
Reduced disposal cost of PCBs
Disposal cost per line: $1,000/month x 12 months = $12,000/year
In addition, the measure is also effective for improving the yield rate in the later processes such as reduced labor for re-inspection.