Example 1: Weld bead shape inspection
This page introduces examples of using a high-performance laser displacement sensor for appearance inspection of a bead after welding to detect surface defects such as undercut, overlap and insufficient reinforcement.
Example 1-1: 2D sectional shape inspection of a laser weld bead
100% inspection is performed visually after welding, which takes a lot of man-hours and presents the difficult task of securing highly skilled and experienced inspection staff. Human errors such as overlooking minute defects are also a serious challenge. Welding inspection using vision systems or conventional red laser displacement sensors had the problem of erroneous detection caused by light from the welding torch or irregular reflections from targets.
High-speed and stable sectional shape detection using the LJ-X8000 Series
The LJ-X8000 Series High-speed 2D/3D Laser Scanner can detect the cross-sectional shape of targets quickly and stably without being affected by the optical noise found at welding sites. The system can detect targets with various shapes and solve many problems that arise in 100% inspection of welding.
For example, the introduction of the LJ-X8000 Series to the laser welding process of tailored blanks (TBs) enables stable inspection of bead shape immediately after welding by tracking the torch of the robot without affecting the processing time. Fast sampling, up to 64 kHz, ensures stable profile detection even when the sensor head is moved to track the fast-moving torch of automatic welding. This allows immediate detection of welding defects to minimize the production of defective products.
Comparison of profile detection at different sampling speeds

A wealth of measurement modes for checking various targets

The LJ-X8000 Series offers 74 measurement modes in total by allowing selection of 16 measurement types and 11 measurement targets. Using these various measurement modes properly allows shape inspection of welds and weld joints of different workpieces.
HEIGHT

WIDTH AND POSITION

ANGLE AND INTERSECTION

MASTER PROFILE COMPARISON

HEIGHT DIFFERENCE

CROSS SECTIONAL AREA

DISTANCE (POINT - POINT)

RADIUS AND MIDPOINT
Example 1-2: 3D shape inspection of a weld bead
Three-dimensional (3D) shape inspection enables a wider variety of shape inspections of welds which are impossible with 2D sectional shape data only, including the volume of pits, undercut or overlap, cracking of the bead surface, bead meandering (bent/misaligned bead), improper bead length (such as remaining groove), arc strike, and spatter.
3D shape inspection using the LJ-X8000 Series and an image processing system
The 2D sectional shape data detected with the LJ-X8000 Series High-speed 2D/3D Laser Scanner can be converted into a 3D shape image and then analyzed to achieve precise shape inspection.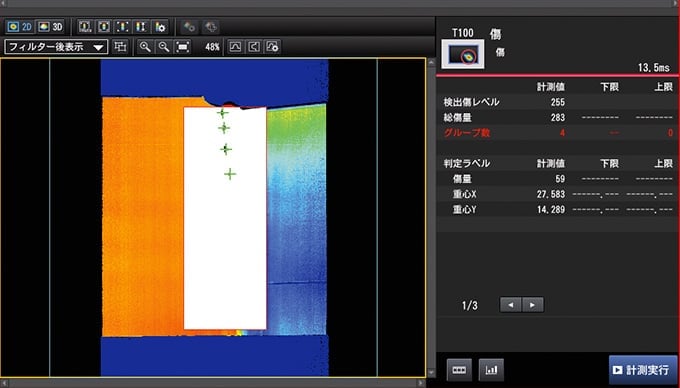 Examples of weld shape detections achievable with 3D shape inspection

In addition, various shape defects of welds can be inspected inline.
Example of 3D shape measurement of overlap, insufficient reinforcement, remaining groove, arc strike, and spatter
Detection items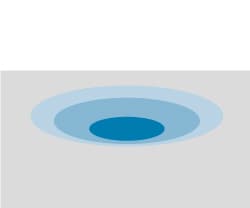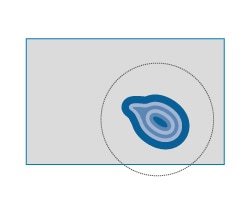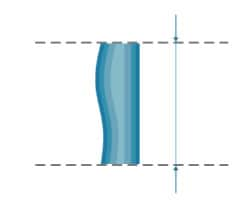 Example of 3D shape inspection and analysis of insufficient reinforcement (recess in bead) after laser welding
Detection items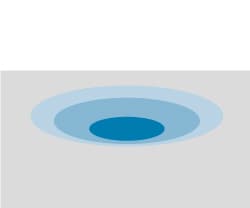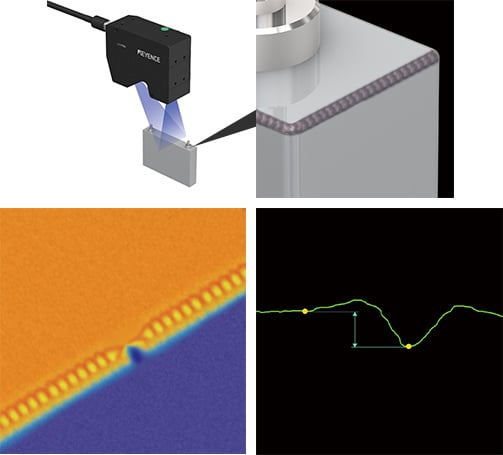 Example of 3D inspection and analysis of bead meandering (bent/misaligned bead) and overlap
Detection items