Example 2: Weld inspection on electronic components
This page introduces measurement examples related to welding inspections such as the measurement of lid heights after sealing crystal oscillators, and the measurement of battery sealing plates (lids).
Example 2-1: Measurement of lid height after sealing crystal oscillators
The process of joining and sealing the lids of crystal oscillators requires highly airtight sealing to improve performance and reduce secular degradation. To satisfy requirements, the lids are joined using methods such as electron beam sealing or vacuum seam welding.
To control the quality of lid joining which is closely related to product quality, high-accuracy inspection of precision workpieces is required to ensure that the lid has been properly joined to each package. Moreover, providing 100% inline inspection requires high-speed detection.
When a conventional 1D displacement sensor is used to measure the height or inclination of a target, the sensor needs to scan the target accurately and quickly. This took a lot of time to move the stage, so 100% inspection was difficult. There were other problems such as high costs to build the system and the difficulty of instrumentation.
Example of a conventional 1D displacement sensor and a stage moving system
WI-5000 Series 3D Interference Measurement Sensor for instantaneous area capture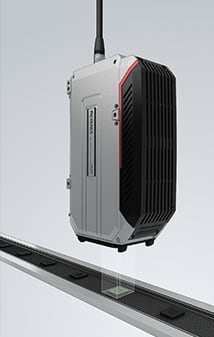 The introduction of the WI-5000 Series 3D Interference Measurement Sensor achieves high-speed and high-accuracy 100% inspection.
The WI-5000 Series can detect 80,000 points of height data per 10 x 10 mm, or area information, within as little as 0.13 seconds, which is sufficient to achieve 100% inline inspection.
Inline inspection of lid sealing with the WI-5000 Series
The WI-5000 Series can instantaneously check whether there is variability in the height of the lid sealing (looseness or inclination of the lid due to joining failure) of a small crystal oscillator. High-accuracy joining inspection is possible without the need to lower the line speed.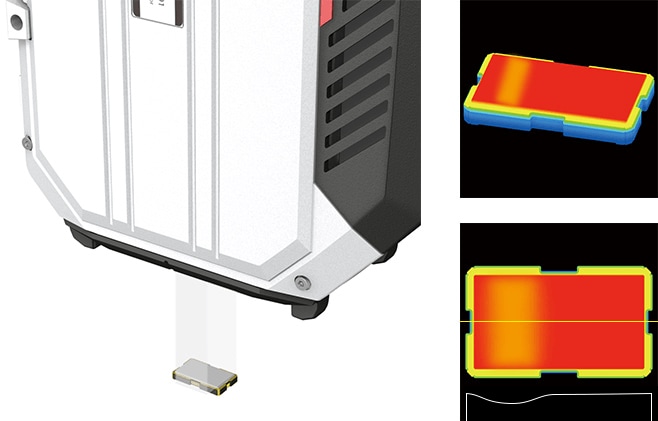 Example 2-2: Welding inspection of battery sealing plates (lids)
The manufacturing process of cylindrical lithium ion batteries requires highly airtight welding of their sealing plates (lids). Resistance welding is generally used to join battery sealing plates. Since welding failures will cause fluid leak, 100% inspection is appropriate for controlling and maintaining quality.
In reality, conducting 100% inspection with conventional 1D laser displacement sensors has been a challenge in the mass production of batteries. Inspection took a lot of man-hours; and blind areas may occur depending on the shape of the target surface, which requires moving the stage.
The WI-5000 Series allows height measurement without blind areas
The WI-5000 Series 3D Interference Measurement Sensor can measure the height of 80,000 points in just 0.1 second. In other words, it can measure an area, instead of points, instantaneously. The system is not affected by blind areas, which were a problem with conventional 1D displacement sensors, so it can be used for inline inspection of targets with a variety of shapes.
Comparison of measuring areas between a conventional displacement sensor and the WI-5000 Series
Height/inclination measurement of battery sealing plates (lids) with the WI-5000 Series