Laser welding techniques
With laser welding, changing the output power and oscillation form of the laser beam is possible, making the method highly adaptable to various applications for use in various assembly processes.
Laser welding includes heat conduction welding and keyhole (deep penetration) welding, characterized by variations in the laser beam output, and pulsed laser beam welding and continuous laser beam welding, characterized by different laser oscillation modes. The pulsed laser beam from a short-wavelength, powerful laser is ideal for spot welding, while continuous laser beams are ideal for seam welding. Both welding methods are also suitable for welding materials with a high melting point or with high thermal conductivity due to a very low thermal effect during welding.
Heat conduction welding and keyhole (deep penetration) welding
Heat conduction welding is a laser welding method that features a low output. This makes for a penetration depth of no more than 1 to 2 mm. With the ability to handle a relatively wide power range, heat conduction welding can be adjusted to the ideal power level, and the shallow penetration makes it possible to weld materials that are susceptible to heat effects under optimal conditions.
This welding type is used for butt joints, lap joints, and other welding applications for thin plates, and can also be used for welding hermetic seals and other seals. Heat conduction welding is also suitable for volatile alloys such as magnesium and zinc, for which keyhole (deep penetration) welding is not suitable.
Keyhole welding (deep penetration welding) uses a high-output laser for high-speed welding. The narrow, deep penetration allows for uniform welding of internal structures. Because the heat-affected zone is small, distortion of the base material due to welding can be minimized.
This method is suitable for applications requiring deep penetration or when welding multiple base materials stacked together (including for butts, corners, Ts, laps, and flange joints).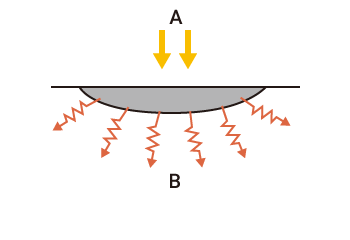 A

Laser beam

B

Heat conduction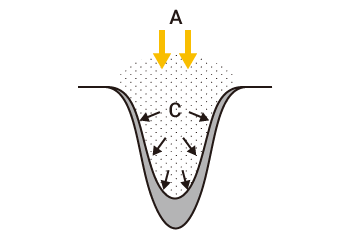 A

Laser beam

C

Vapor pressure
Differences between heat conduction welding and keyhole (deep penetration) welding

| | Heat conduction welding | Keyhole (deep penetration) welding |
| --- | --- | --- |
| Tolerance | Accuracy required on both surfaces | Accuracy required only on one surface |
| Heat efficiency | Approx. 35% | Approx. 95% |
| Welding efficiency level | Low | High |
| Welding speed | Slow | Fast |
| Energy required for 1 mm seam | High | Low |
| Heat-based distortion | Slight distortion | Minimal distortion (less than heat conduction welding) |
| Seam size | Large | Small |
| Seam smoothness | Smooth | Rough |
Remote laser welding
Remote laser welding is a welding method where the laser beam is controlled by a mirror and quick movements of the welded part for high productivity, production line flexibility, and cost-effectiveness.
The laser beam is controlled by a movable mirror (1) and a lens system (2). The lens system can be used to control the Z direction, and the movable mirror can be used to control the X and Y directions (3), enabling quick and accurate application of the laser beam to the welding area anywhere within the laser beam range (4).
Unlike spot welding, where the material being welded needs to be accessible from both sides, remote laser welding requires access from only one side.
Spot welding also requires time for the robot arm to move between welded parts, whereas remote laser welding only involves movement of the mirror allowing negligible physical travel speeds.
This high welding speed makes it possible to achieve processing speeds more than 10 times faster than with spot welding.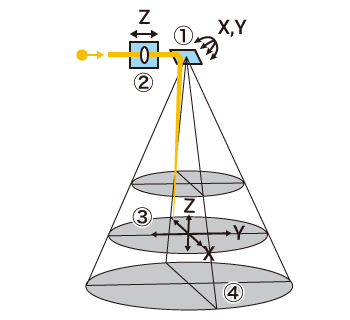 Laser deposit welding
This method is also referred to as laser cladding or direct metal deposition. Welding involves the use of a filler material, with the surfaces of the filler material and the base material melting to form a metallurgical bond. Common filler materials are wire or metal powder. This method can be either automatic or manual depending on the application. Laser deposit welding can be used not only for joining but also for repairing weld surface defects, for manufacturing mesh-shaped components by forming weld beads, and for processing metal surfaces.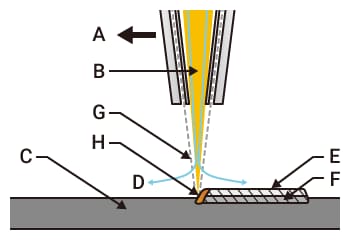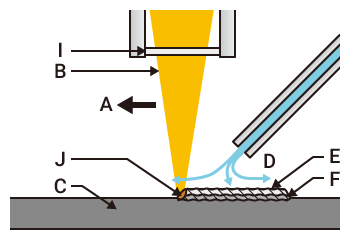 A

Welding direction

B

Laser beam

C

Base materials

D

Shielding gas

E

Deposited metal

F

Welded materials

G

Metal powder

H

Weld pool

I

Protective eyewear

J

Filler wire