How to Convert Current Values to the Actual Measured Values of a Sensor
There are various types of sensors equipped with 4 to 20 mA output, such as displacement sensors, pressure sensors, and flow sensors. This section explains how to make it easier to understand measurement results from a sensor equipped with 4 to 20 mA output as current values.
Scaling of measured values
You can make measurement results easier to understand by converting measured current values to the actual measured values of a sensor and adding a unit of measurement. The scaling function of an instrument is used for conversion to actual measured values. The scaling function is set through 2-point correction using two arbitrary points.
Scaling settings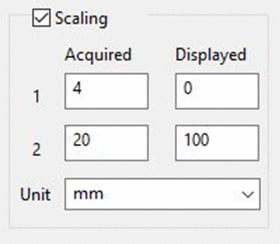 4 mA is scaled to 0, and 20 mA is scaled to 100.
The unit is converted to "mm."
When current is converted to voltage using a shunt resistor, voltage values are scaled to actual measured values.
Results of scaling (measured values and units before and after scaling)