CAN Data Analysis
From CAN signal lines, you can acquire various information output by the connected devices. This section explains the knowledge required for CAN data analysis, namely, CAN data formats and CAN database files.
Basic knowledge of CAN data analysis
Once you have understood the basic structure of the CAN serial communication protocol, the mechanism of CAN data communication, and usage examples of CAN in automobiles, you have advanced to the point where you can actually verify CAN data. To solve the questions of "how to actually start using CAN" and "how to utilize CAN for design and development," this section introduces the basic knowledge of CAN data analysis you should know when engaging in design and analysis.
Range of applications of CAN
Before starting CAN data analysis, let's learn its range of applications. CAN has several formats such as standard format and extended format, and each of them has their specific range of applications. In general, the standard format is used for regular-sized automobiles, the extended format "J1939" is used for large-sized automobiles, and a CAN-based protocol called the "CANopen" is used for industrial machines. CAN is used in a wide variety of fields, not only in the automotive industry, but also in industrial machinery; FA; agricultural machinery; medical equipment; and the railway, ship, aircraft, and space industries. Each industry uses different protocols according to their needs.
CAN data analysis
As "analysis" is one of the operations repeatedly conducted in the development phase, an explanation of a general procedure of CAN data analysis is given below. Because CAN communication is based on digital data, it is first necessary to obtain communication waveforms. Then, the length of one bit is determined on the basis of the communication speed, the waveform data is replaced with dominant or recessive, and it is grouped into frames and converted into hexadecimal to enable analysis.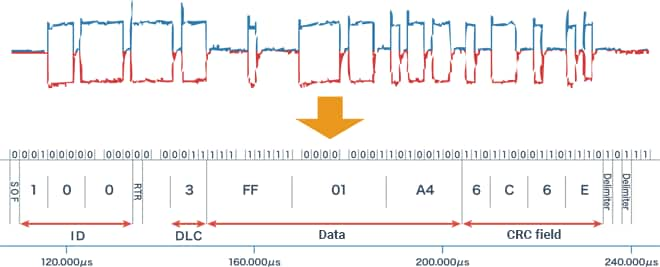 For example, the CAN data collection unit NR-C512 enables you to check the characteristics of signals. This product is compatible with the high-speed CAN and the low-speed CAN, supports up to 128 messages per port, and is capable of sending and receiving up to 512 signals per port.
Click here for product information on CAN data collection unit "NR-C512."
Utilization of CAN database files
A CAN database file contains information used to define frames and signals. In this file, rules for converting CAN data signal values to engineering units are defined. In general, signal values are converted into numeric values in the real world (such as km/h and rpm) by using information such as the channel name, the channel position and bit number in a message, the data type, the range, the default value, and the comment.