Applications and Examples of Acceleration and Vibration Measurement
Can you easily form an image of acceleration and vibration measurement? For example, if the manufacturing equipment you use deteriorates, abnormal noise or vibration may occur, which may eventually lead to breakdown. If the equipment actually breaks down, its repair will require significant cost and time. Consequently, suspended production may result in significant lost opportunities.You can prevent such breakdowns by measuring abnormal vibration and other conditions on the production line and by considering the timing of maintenance and replacement on the basis of the acquired data. Also, in the field of research and development, acceleration sensors are commonly used for testing such as product and durability tests to detect vibration, movement, shock, etc. This section introduces examples of acceleration and vibration measurement utilized in various industries (such as the electronic device, electric equipment, automotive, and metal/steel industries).
R&D applications
Production site applications
R&D applications
Electrical equipment industry

Transportation testing for precision devices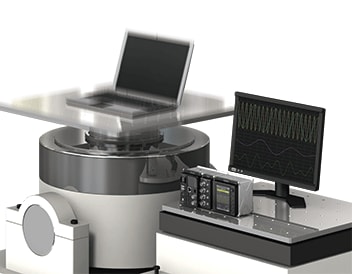 During transportation by truck, ship, airplane, train, etc., products are inevitably affected by vibration. Hence, precision devices need to be tested, through product evaluation, for their tolerance against vibration occurring during transportation. More specifically, the way that products are vibrated is measured by applying simulated transportation vibration with the amplitude, frequency, and acceleration being changed by a vibration generator. During transportation testing, in consideration of long-time transportation, it is necessary to continuously apply vibration for one day or more to identify at which vibration level malfunctions occur and to analyze their causes. For such long-time testing, KEYENCE's Multi-Input Data Collection System NR Series gives you peace of mind thanks to its support for a large-capacity SD card.
Electronic device industry

Vibration data measurement for conveyance robots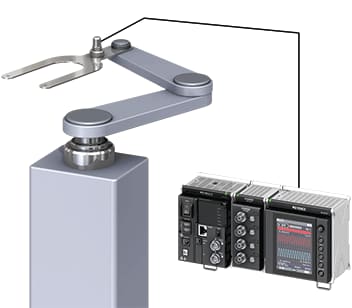 Manufacturers of conveyance robots or other industrial robots for welding, painting, etc. need to confirm the operating conditions of assembled robots. Although this inspection has conventionally relied heavily on inspectors' experience and instincts, quantification is now possible by measuring the acceleration and vibration and analyzing the vibration level during operation. Using the Multi-Input Data Collection System NR Series, you can distinguish, after analysis of the vibration level during operation, between non-defective and defective products through comparison with master products to identify abnormal locations on the basis of numeric values. With this product, you can also easily put numeric values into a graph and create reports, thereby leading to the visualization of inspection results for users.
Automotive industry

Engine bench testing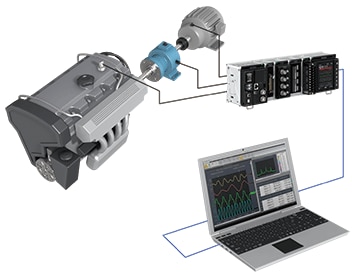 Various elements—including engine performance, durability, and exhaust gas—are tested during engine bench testing for automobiles. Various measurement units—for measuring vibration, acceleration, temperature, strain, etc.—can be connected to the Multi-Input Data Collection System NR Series thanks to its support for up to 576 channels. In addition to engine vibration, you can also acquire data such as exhaust/intake temperature and ignition pulses. Furthermore, a CAN data collection unit is also available, making this product ideal for engine bench testing.
Production site applications
Various industries

Measurement of data for changes over time in bearings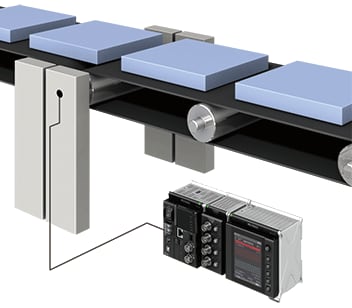 Regardless of industry, belt conveyors are widely used at production sites, and deterioration of bearings in the drive components of belt conveyors may lead to breakdowns, lower productivity, and unstable quality. The Multi-Input Data Collection System NR Series enables you to log data such as vibration and strain for a long time so that you can detect the deterioration status. By considering regular maintenance and equipment replacement according to abnormal vibration or other conditions, you can effectively prevent the risk of breakdown and the deterioration of productivity/quality.
Various industries

Trend monitoring for equipment (abnormal vibration)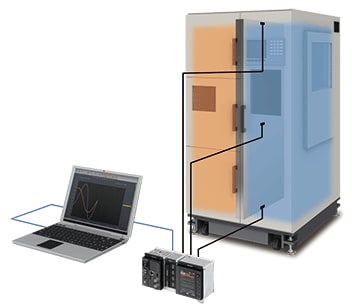 You can monitor various equipment by installing vibration sensors on them to record data and comparing the vibrations between the normal and abnormal states. If abnormal vibration is measured, quickly checking the relevant equipment is also effective for predictive maintenance, enabling you to take measures before a breakdown actually occurs. The Multi-Input Data Collection System NR Series is equipped with not only a function for long-time logging but also an ultra-compact UPS circuit to prevent data loss and file damage due to power supply failure. Even if the power supply turns off unexpectedly—for example, due to an instantaneous drop in the power supply or due to a power failure—you can feel assured because the power required to save data to the SD card is secured.
Acceleration measurement with a multi-input data logger and a high-precision measurement unit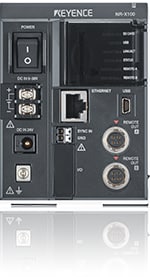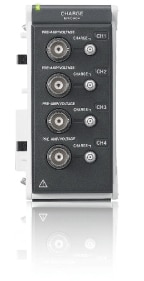 You can measure acceleration and vibration by combining the Multi-Input Data Logger "NR Series," which is packed with various evaluation and analysis functions on the smallest and lightest body in its class, with the acceleration measurement unit "NR-CA04." Furthermore, the high-precision temperature/voltage measurement unit "NR-TH08," the high-speed analog measurement unit "NR-HA08," and the strain measurement unit "NR-ST04" can also be connected simultaneously, thereby enabling multi-functionality in which a single unit plays seven different roles.
The acceleration measurement unit "NR-CA04" has a built-in 4-channel charge amplifier that is the smallest in the world. To this same unit, you can connect an electric charge output-type or voltage output-type acceleration sensor or even a TEDS sensor. The resulting system enables you to sample various types of vibration and acceleration.