Latest Information on Temperature Measurement
Temperature sensors are classified mainly into contact type and non-contact type sensors, and the latter is further classified into radiation thermometers and color thermometers.
This section introduces the Digital Infrared Temperature Sensor "FT Series," which enables you to measure the surface temperature in a non-contact manner.
Digital Infrared Temperature Sensor FT Series
Four features of the sensor head
High-speed response: 15 ms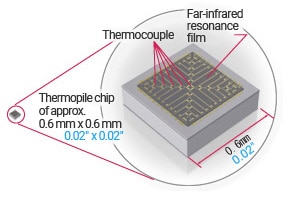 The FT Series puts great emphasis on the responsiveness of the thermopile, which detects the temperature. The responsiveness of the thermopile has been enhanced dramatically by: (1) making the far-infrared absorbing film as thin as possible and (2) efficiently arranging the thermocouples geometrically to detect the absorbed heat in a quick and reliable manner.
Laser pointers
Two laser pointers* indicate the detecting area clearly to make it easier to install the sensor.
* Class: FDA = Class 1, JIS = Class 1, IEC = Class 1
Smallest-in-class: One-fifth the size
The detector, including the thermopile, is enclosed in a cylindrical structure and floats so as to not come in contact with the sensor head body. The layer of air eliminates the influence of disturbances such as the ambient temperature of the sensor, thereby realizing the smallest possible sensor head body design.
High stability
An IPC* and a center floating structure have been newly developed to maximize the stability—the most important property of a sensor. As the core of the FLASH Thermo, these technologies support the basic functions of the sensor.
* An abbreviation of Integral Protection Circuit. This circuit, which has been developed specifically to enhance the stability, performs averaging processing using integration.
The FT Series can offer stable displayed temperatures under a wide variety of conditions.