Key Points in Selecting the Sampling Cycle
The cycle of "sampling," which is the processing required to convert analog waveforms to digital data, is called the sampling cycle or sampling interval.
How to determine the sampling cycle
Electronic measuring instruments measure data at each sampling cycle. Therefore, accurate waveforms may not be measured if the sampling cycle is selected incorrectly.
| Sampling frequency/signal waveform frequency | Effect on recorded waveforms |
| --- | --- |
| 10x or more | Waveforms can be displayed and recorded accurately. |
| Between 2x and 10x | Peak values become smaller. Waveforms become rougher. |
| Less than 2x | Aliasing occurs, resulting in waveforms that are completely different from the actual ones being displayed. |
A key point is to select an instrument whose sampling frequency is 10 times or more that of the target signal waveforms. Note that, as shown below, waveforms may not be measured accurately if measurement is performed using a sampling frequency less than 10 times that of the target signal waveforms.
Waveforms obtained when a 100 VAC power supply at 60 Hz has been measured by changing the sampling cycle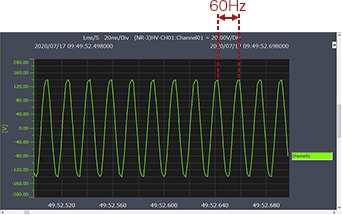 Sampling at 1 kHz

Waveforms can be measured accurately.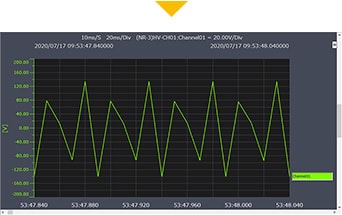 Sampling at 100 Hz

Waveforms cannot be measured accurately due to a slow sampling cycle.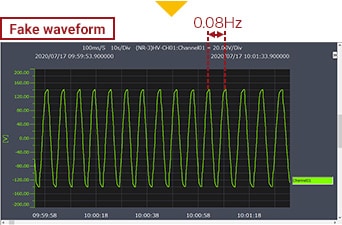 Sampling at 10 Hz

Although the waveform may appear to be correct, aliasing has occurred,

resulting in a completely different waveform with a cycle of 0.08 Hz.