YVO4 × FIBER = HYBRID
In 1994, KEYENCE released a revolutionary CO2 laser marker that was the smallest in the world at the time. Since then we have continually released products that combine cutting edge technology with unique KEYENCE developed features. Our YAG/FIBER and YVO4 product lines were developed independently to take advantage of their individual bene ts based on their oscillation methods. Now, the MD-X Series HYBRID laser marker combines the advantages of both FIBER and YVO4 laser oscillation methods in one cutting edge product.
EQUIPPED WITH OUR NEWLY DEVELOPED S-MOPA* LASER OSCILLATOR
This unique laser oscillation method combines the best attributes of YVO4 and FIBER laser markers. Years of KEYENCE laser development in solid state and fiber oscillators has led to the invention of the HYBRID oscillator powering our new MD-X Series laser marker.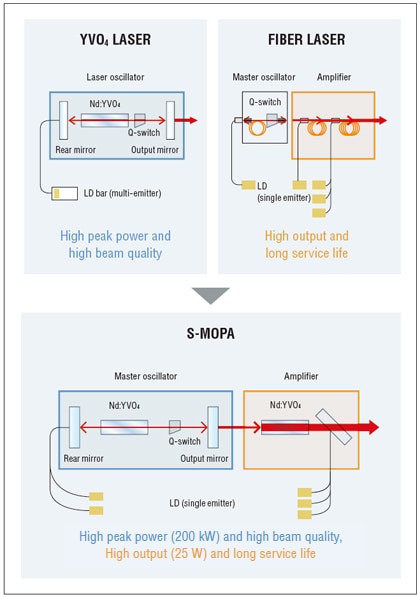 *Solid-State Master Oscillator Power Amplifier:
A high quality YVO4 laser is used as the master oscillator and then fed into a FIBER technology based amplifier to combine the best of both technologies. By using a single emitter laser diode, a long service life expectancy can be achieved compared to conventional technology.
HIGH OUTPUT 25 Watt AVERAGE POWER
The MD-X1500 Series has a 25 watt average power, which is 3 times higher than our previous YVO4 models. This allows for faster marking and processing thereby decreasing cycle time and increasing production. Continuous wave (CW) or pulsed oscillation methods can both be used, giving the MD-X Series the flexibility to mark a wide range of applications. This flexibility is key to marking on applications ranging from plastics, metals, thin films or foils.
HIGH PEAK POWER (200KW) AND SHORT PULSE WIDTH
The MD-X1500 Series achieves a peak power of 200 kW, which is 4 times the peak power of our previous YVO4 models. The MD-X1500 Series combines a high peak power with a short pulse width (4ns) to minimize the damage caused by heat transfer to the target. This makes the MD-X1500 Series the optimal laser marker for applications where it is necessary to eliminate the effect of heat transfer such as marking on resins or plastics.