UV Laser Coder
FP-1000 series
UV Laser Coder
FP-1000 series
Introducing KEYENCE's UV Laser Coder
This UV laser coder is designed to replace your thermal transfer overprinter (TTO) with no changes to your current packaging film or existing production line. UV laser coders will eliminate consumables and downtime, while also increasing your production throughput.
No Down Time
No Consumables
Easy Use
UV Laser Coders are designed as a direct replacement for thermal transfer overprinters (TTO). This eliminates the need for ink ribbons required to transfer ink to the surface of the film with conventional thermal printers. The result is highly visible, damage-free marking without the need for special films.
Features
No Down Time
Light-based marking with a UV laser coder eliminates the downtime required to replace ink ribbons and clean heads with conventional thermal printers.
With no downtime, production can also be increased, helping improve production line operating rates.
No ink ribbon costs
No Consumables
Because marking with a UV laser coder is based on light, regular replacement of parts is not necessary and consumable costs can be eliminated.
Intuitive, easy-to-use interface
Easy Use
Touch panel operation has been designed to be simple to use for operators of all skill levels. Additionally, complex ribbon changes are no longer needed as the laser coder eliminates the need for consumables. These features allow the user to program and maintain the machine with limited training; reducing the risk for operator error.
Marking that Doesn't Fade
With conventional ink-based systems, there is a high risk of incomplete or faded marking. Marking by a UV laser will be permanent and flawless even when there is oil, powder, or other contaminants on the surface of the film. UV laser marked products are also immune to post-marking damage such as friction, alcohol, heat, and transportation.
Oil
Powder
Alcohol
Heat sterilization
Conventional thermal printer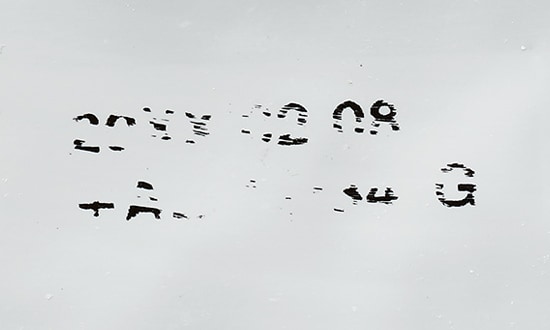 * Results comparison after rubbing on the marked area of film exposed to powder before marking.
Installation Examples on Various Packaging Machines
Heads are designed to be compact for easy installation in place of existing thermal printers.
Heads can be attached to a variety of packaging machines including horizontal pillow-type packaging machines, vertical pillow-type packaging machines, bag feeding machines, and stick packaging machines.