Wide Area Coordinate Measuring Machine
WM series
Wide Area Coordinate Measuring Machine
WM series
Large 15 m

(49.2')

Measurement Range
High accuracy:
- Precision measurements over a large area
Easy-to-use:
- Just touch the part with the probe
Portable:
- Measure anywhere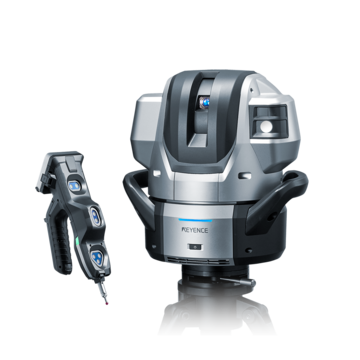 The WM Series Coordinate Measuring Machine is a new handheld CMM designed accurate 3D and GD&T measurements over a large 15m (49 ft) area. Similar to the XM Series, the unit is portable and shop-floor ready, so measurements can be taken in any location including in the machine tool. The unit also automatically records measurement data and creates detailed inspection reports. The image showcases our latest WM-3000 model which uses a wireless, handheld probe with on-screen visual guidance to have a single operator easily inspect parts with complex dimensions or would normally require multiple inspectors due to part size.
Applications
Equipment stand measurement

Assembly jig/inspection tool measurement

Assembled equipment parts measurement

Rework confirmation
Features
Solving Large Part Measurement Problems
Arm CMM / Hand Tools / Laser Tracker
Large Parts are Difficult to Measure
Restricted measurement area
Single-person inspection is difficult
High maintenance costs
Simple Large-scale Measurement
Wide measurement range
Easy-to-use
No cost of ownership
A New Concept in Coordinate Metrology
High-accuracy

Precision Measurements over a Large Area
Maximum measurement range 15 m 49.2'
Easy-to-use

Just Touch the Part with the Probe
No movement restrictions with the wireless probe.
Portable

Measure Anywhere
The WM Series comes with a dedicated, mobile-case.