High-speed optical micrometer
LS-9000 series
High-speed optical micrometer
LS-9000 series
Resistance against Tilt and Vibration, Ensuring Excellent Performance in Every Scenario
Offline and Inline Measurement capability
LS-9000 Series high-speed optical micrometers are highly durable and provide the sampling speed (16000 samples/second) and repeatability (±0.03 μm) required to perform reliable inline measurement. Thanks to their specialized optical design using a high-intensity LED and telecentric lenses, these sensors do not contain any moving parts, thus delivering accuracy over a long service life. Its high speed, accuracy, and durability allow for stable inline and offline measurement in a variety of environments regardless of target material. The high-speed exposure captures clear images of moving targets, enabling accurate measurement for wires and other targets prone to vibration. The system can calculate a target's angle and automatically eliminate error due to tilt or misalignment. With its IP67 environmentally resistant design and air purge unit, this product is resistant to dirt and temperature changes and can be used in a variety of locations and environments.
Applications
Non-contact measurement device

Outer diameter measurements

Dual axis outer diameter measurements

Measuring web width and position
Features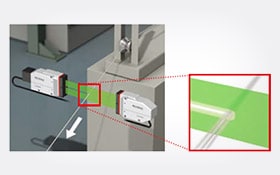 Accurate Measurement Even on Vibrating Targets
Thanks to the class-leading 16kHz sampling speed, images can be captured accurately and without blurring, even on vibrating targets, ensuring accurate measurements.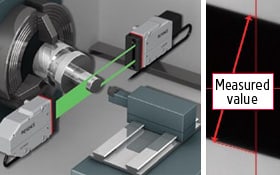 Stable Measurement Even on Tilted Targets
The built-in monitor CMOS sensor recognizes target tilting and automatically corrects measured values according to the detected angle, allowing for accurate measurement.
Designed without Moving Parts for Longer Lifespan and Less Maintenance
KEYENCE's proprietary optical design has no moving parts, eliminating the need for recalibration and long term maintenance.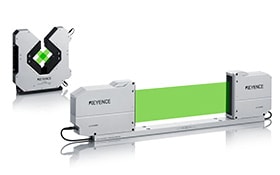 Wide Array of Sensor Heads Are Available to Meet the Application's Needs
The sensor head lineup, including high-precision models, dual-axis models and a wide field of view model ensures the right solution for the application.