High Accuracy Automated Colony Counter
BC-1000 series
High Accuracy Automated Colony Counter
BC-1000 series
New

Count Colonies in Just 1 Second — Automate Microbiological Testing
Instant results at the push of a button
Digital inspections
All-in-one unit with magnified observation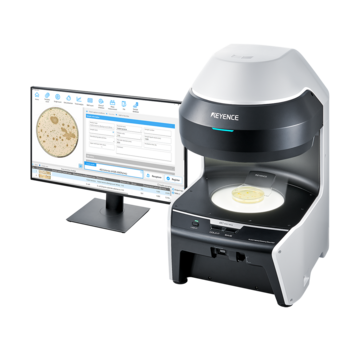 Automatically count colonies in just 1 second for accurate automation of microbiological testing. By integrating proprietary optics, lighting, and image-processing technologies, it becomes possible to accurately count even the tiniest colonies using a cutting-edge 20-megapixel CMOS sensor with high definition. Optimal lighting ensures that every colony is clearly visible for accurate counting while also excluding accidental counting of residue. Counting results are also converted directly into data, eliminating the need for manual transcription and ensuring reliable digital management.
Features
Results in Just 1 Second with "Place-and-Press" Counting
Simply place the Petri dish on the stage and press the button to get accurate colony counts. The system has preset optimal inspection settings for specific culture mediums and other factors, allowing even novice users to get accurate counts.
Reliable, Repeatable Results for All Users
Stable detection is possible with 99% accuracy even for microcolonies. Accurate counting is even possible for samples that cannot be easily counted with conventional methods.
Digital Inspections
Digitally manage all work that was previously done by hand. Improve operation reliability and ensure data integrity with just the touch of a button.
Manual counting / Manual transcription / Data entry
Automatic counting / Automatic data conversion