View Catalog
Two Digital Display Pressure Sensor Amplifier
Two Digital Display Pressure Sensor Amplifier
Improved usability and functionality, view current and set pressure values simultaneously
Two Digital Displays
Dual digital display & direct access similar to KEYENCE fiber optic sensors, you can finely adjust the set value directly while watching the current pressure value. The current pressure and set values can be viewed simultaneously, ensuring reliable operation.
Two designs are Available for DIN-rail or Panel mounting.
Two types of amplifiers can be selected: the DIN-rail mounting type or the panel mounting type.
The separate amplifier can be installed at any convenient location.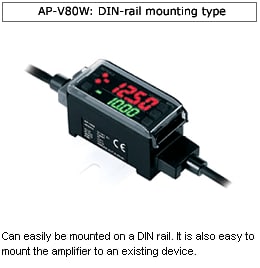 Panel Mounting Models for Space Saving: DIN size, 0.95" (H) x 1.89" (W)
The amplifier is designed to be compact and light weight, about one-tenth the size of conventional models. The required mounting space is reduced significantly.
Two Digital Display Pressure Sensor Amplifier
View Catalog