View Catalog

Features
Wide reading area [Easy code detection] & Faster reading speed [ Immediate decoding ]
Thanks to a wide reading area and deep depth of view, codes area easily captured at pull of the trigger. Furthermore, high-speed reading that was not available with conventional handheld readers is now possible.
Easy Code Capture Allows High Speed Reading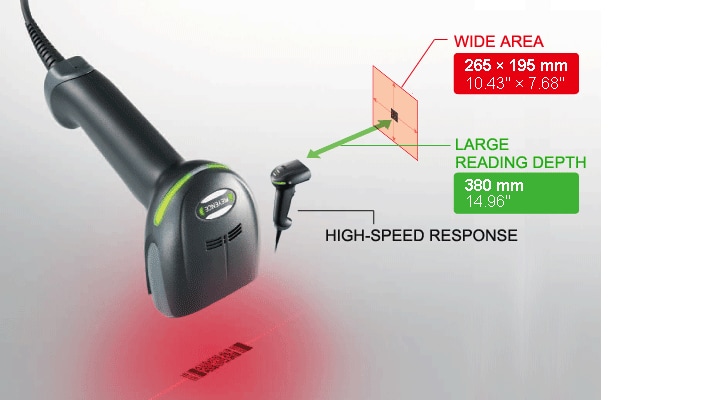 Reading Capabilities
Codes that were out of reach for other handhelds can be read with ease
The HR-100 Series' decoding algorithm is excellent at reading low contrast codes. Too light or too dark, poor resolution and contrast printed codes can be read with confidence.
An array of poorly printed codes can be read
Thin printing
Stained printing
Blurred printing
Ability to read Direct Part Mark codes
Black resin
PCB
Various features increase ease of use
Drop impact resistance 1.8 m 5.91'

The HR-100 Series is built to withstand accidental drops. You can rely on its durability and use it without fear of damage.
Continuous reading in auto-scanning mode

When a label passes is comes in the field of view, it is automatically detected and decoded. Using the dedicated stand, the HR-100 automatically switches into Auto Scanning, continuous emission.
System configuration
View Catalog