Programmable Logic Controller
KV-8000 series
Programmable Logic Controller
KV-8000 series
Machine Operation Recorder Function
Identify the causes of problems and recover quickly
PLC with built-in operation recorder function.
New | Quickly Identify Irregular Operations: Introducing a new data utilization unit
Taking the KV-8000 Machine Operation Recorder function to the next level!
Anomaly Detection function
Symptom Monitoring function
Web Server function
Features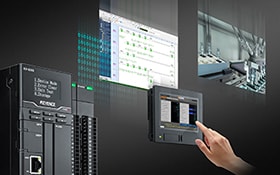 Record, Play Back, and Analyze Faults to Apply Fixes Quickly. All Device Data can be Recorded
Apply tools such as relational mappings and device change searches to quickly identify and fix programming issues.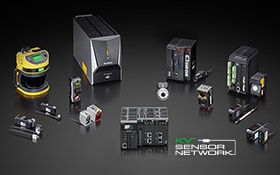 Program-less Communication Options with KV-X COM
Connect seamlessly to factory automation devices and PLCs.

Program-less PLC networking capability that supports 4 major industrial networks.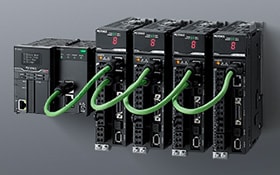 Use KV-X MOTION for Positioning/Motion Control
From positioning applications with a limited number of axes to multiple axes synchonization control, KV-X MOTION is designed to meet a wide range of demands.
KV-8000A with Built-In OPC UA Server Function
Connectable to various devices and upper level systems via an international standard
Advanced security ensures safe data communication
Easily configurable with no intermediate PC required