Programmable Logic Controller
KV-8000 series
Programmable Logic Controller
KV-8000 series
Eliminate Problems and Improve Operational Availability
View a comprehensive record of PLC data when a problem occurs with the Machine Operation Recorder function
Prevent problems before they occur with the Anomaly Detection function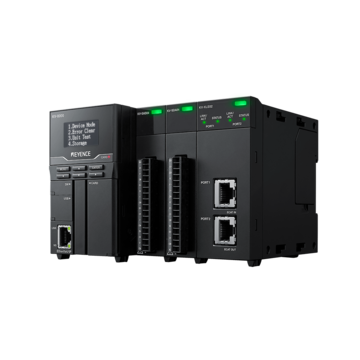 PLC with built-in operation recorder function.
Machine Operation Recorder Special Site
Special dramas for Machine Operation Recorder.
Tutorial movies for setting up.
Features
Resolve Problems Quickly with the Machine Operation Recorder Function
The Machine Operation Recorder function records all equipment information before and after a shutdown.
This enables immediate identification of the cause of the problem, allowing for shortened recovery time and improved operational availability through fundamental countermeasures.
Recording : All equipment data from devices, cameras, and events are automatically recorded.
Playback : View linked playback of various data sources recorded from the moments before the problem occurred.
Analysis : Automatically analyze ladder programs and view tree diagrams of related devices.
Prevent Problems with Symptom Monitoring
Constantly monitor the cycle time, device operating times, and waveform data (temperature, pressure, torque, etc.) for each scan cycle. Alerts for equipment behavior changes help prevent problems before they start.
Program-less Communication Options with KV-X COM
Connect seamlessly to factory automation devices and PLCs
Program-less PLC networking capability that supports 4 major industrial networks
Use KV-X MOTION for Positioning/Motion Control
Program with drag/drop code or function blocks
Synchronize motion across multiple axes
Motion programs do not affect PLC scan time
KV-8000A with Built-In OPC UA Server Function
Connectable to various devices and upper level systems via an international standard
Advanced security ensures safe data communication
Easily configurable with no intermediate PC required