Unprecedented Functionality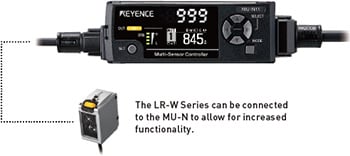 Various Output Options

The MU-N Series controller offers customizable I/O. This includes both control outputs and a voltage/current analog output.
Rich OLED Display

The combination of an OLED and 7-Segment Display allows users to quickly view data in real time. The MU-N also has the ability to display live graphs for easy machine monitoring.
Network Compatibility

By pairing the MU-N Series with the KEYENCE NU Series, users can transmit data over a standard industrial network. Compatible networks include EtherNet/IP™, CC-Link, and DeviceNet™. Click here to learn more about the NU series.
Settings Back-Up Function

The Settings Back-Up Function allows users to save sensor settings on the MU-N and quickly transfer them to new sensors that are attached.