Inductive Gauging Sensor
EX-200 series
Inductive Gauging Sensor
EX-200 series
The EX-200 Series offers a response frequency of up to 18 kHz (with the EX-305), allowing measurement of rapidly vibrating targets.
Features
Linearity of ± 1% of F.S.
High response speed of up to 18 kHz
Resolution of 0.04% of F.S.
Sensor head housing IP-67 rated
RECOMMENDED
Latest Technology
High-speed Sub-micron Displacement Sensor with 40,000 Samples/sec.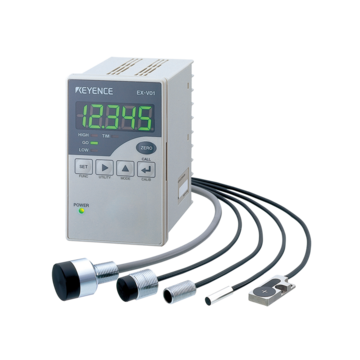 High-speed sampling : 40,000 samples/second
High resolution & accuracy due to FLL circuit
Automatic Bottom-dead-center measurement mode
Automatic Vibration measurement mode
Automatic Gap measurement mode
2 color LED digital display for easy setup
Environmental resistant IP-67 sensor head
View Catalog