Vision System with Built-in AI
VS series
Vision System with Built-in AI
VS series
New

Delivers the Fastest Set-up Time for All Vision System Users
Best image with a single click
Use both AI and rules-based tools on the same image
Program any inspection quickly
Real-time data visualization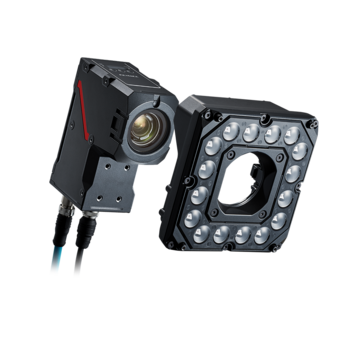 The VS Series delivers rapid machine vision solutions for a wide range of applications at any experience level. This smart camera includes the industry's first optical zoom function to create optimal images with a single click. The simple-to-use software also enables quick setup of a variety of inspections for both AI and rule-based vision tools. With this simplified setup and ease-of-use interface, the VS series provides optimized vision solutions as quickly as possible.
Features
Best Image with a Single Click
WORLD'S FIRST

Optical System with Uncompromised Flexibility with ZoomTrax
The VS Series incorporates advanced lens control technology, effectively managing 19 lenses within an IP67 smart camera. This innovation eliminates the need for manual lens selection or physical adjustments, thus empowering a single camera model to seamlessly adapt to various imaging requirements with the click of a button.
Use Both AI and Rules-Based Tools on the Same Image
AI and rule-based systems both have pros and cons. The VS Series offers both AI and rule-based inspections, allowing the user to select the best tool for any inspection. Building appropriate solutions is quick using this wide range of vision tools.
Immediate Setup and Data Utilization
Program Any Inspection Quickly
Whether simple or advanced, inspections can be performed quickly with this one software.
1

Easy copy & paste: Keyboard shortcuts

2

Intuitive programming: Task view

3

Easy-to-see: Image view

4

Efficient setup: Properties view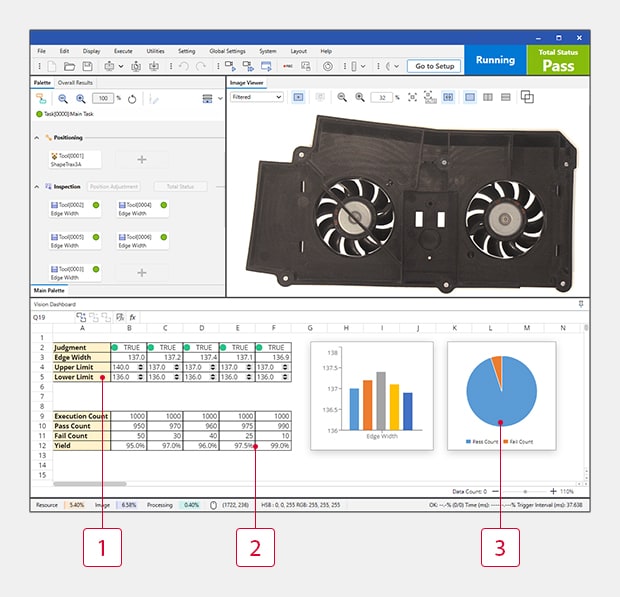 Use Data Immediately
The VS Series allows for immediate visualization and analysis with intuitive operations. No specialized knowledge or programming skills are required to make use of image inspection data.
1

Lists for threshold adjustment

2

Table format for yield rate management

3

Graphs for quality analysis
A Game-Changing Vision System for All Vision Users