Full 360° Scanning Around Entire Object
Place-and-Press automatic scanning
Clearly see deviations between the 3D scan and CAD file
Scan multiple targets together
VL Series 3D Scanner CMMs can measure large targets in 3D from all directions, providing full 360° scanning capability. The motorized turntable moves in the X, Y, and θ directions for fully automated recognition and scanning of the measurement target. The high-magnification lens captures up to 16 million data points, allowing for the acquisition of precise data on small targets and complex shapes that cannot be measured with conventional scanners. Full 360° scans can be compared directly against CAD data, allowing for easy detection of deviations from design values, quick determination of good vs. bad parts, and wear analysis before and after use of a product.
Features
3D Measurement of Large Targets in Their Entirety
The VL-500 automatically recognizes the size of the object and adjusts the scan range to collect data over its entirety.
3D Measurement of Complex Shapes with High Accuracy
By incorporating both low and high magnification lenses, the VL-500 is able to acquire up to 16 million points per scan, capturing finer details even on smaller objects.
Place-and-Press Automatic Scanning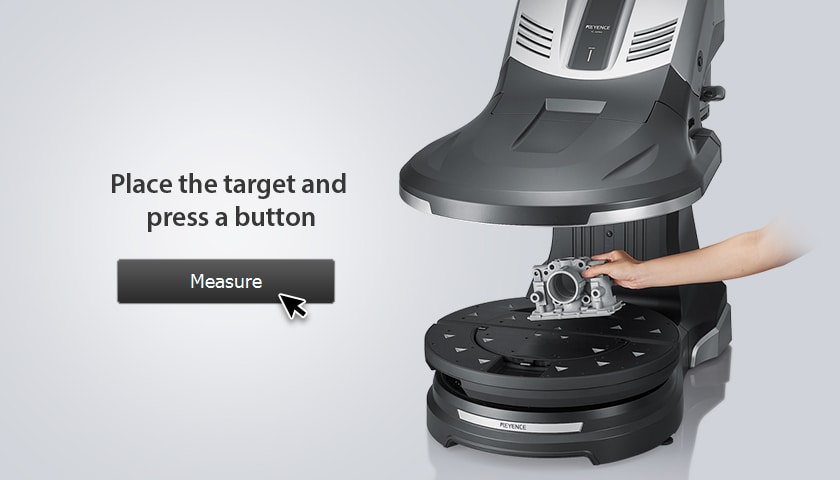 No need to adjust settings or object position
To scan an object, users simply need to place a part on the stage and click a button. The system will scan and combine the data from each side into a single 3D model, eliminating any variation that could occur by moving or adjusting the measurement head, like with conventional 3D scanners.
Repeatability: 2 µm
0.000079"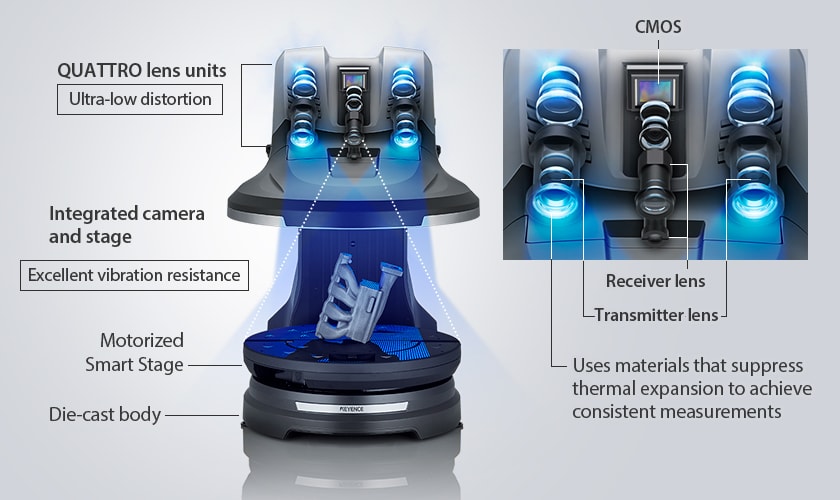 Delivers highly reliable, stable measurement
The VL Series is the first in the industry to feature a structure in which the camera and body are integrated.
This, along with KEYENCE's proprietary position algorithm, allows it to minimize any distortion occurring within the scanning envelope. Highly reliable measurement over a wide range is now possible for the first time.