Ultra High-Speed/High-Accuracy Laser Displacement Sensor
LK-G5000 series
Ultra High-Speed/High-Accuracy Laser Displacement Sensor
LK-G5000 series
World-Class Performance in Every Aspect Provides Precision for Any Application
Fast, accurate, and capable of measuring various targets.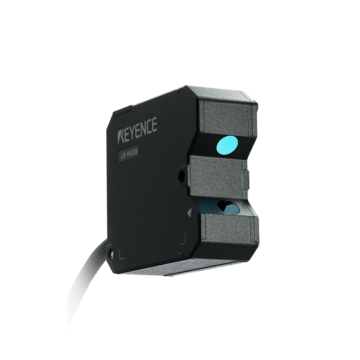 The laser triangulation displacement sensors of the LK-G5000 Series offer high speed and high accuracy for non-contact displacement measurement applications. The sensors utilize advanced hardware such as the RS-CMOS and HDE lens pack to provide reliable results on a range of materials by ensuring the return light is always in focus. This technology creates a sensor with superior linearity (0.02% of F.S.) and repeatability (0.005 µm). With a max sampling speed of 392 kHz, the LK-G5000 Series can reliably monitor vibrations or catch small changes in fast-moving targets. The head lineup is designed to support a variety of industries and applications, allowing users to select the ideal sensor based on their requirements for measurement range, accuracy, and beam spot size.
Applications
Step measurement between the HDD reader arm and the media

Electrode thickness measurement

Zoom lens assembly accuracy

Vibration measurement of a disc-rotor
Features
Stable Measurement on Any Target
Automatically adjusts the laser light intensity to the optimal level according to real time feedback from the target.
Variety of Sensor Heads Available
Handle any measurement situation thanks to a lineup of more than 20 different sensor heads.
World's Fastest Sampling Rate
Because high speed sampling of up to 392 kHz is possible, measurement of high amplitude vibration is also possible.