Applications
Removing static electricity in a part feeder
Prevent electrostatic discharge failures on bonding machines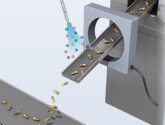 Static elimination of pharmaceutical tablets after the forming process
Static elimination of metal molds
Features
Ultra-small static elimination head can be mounted anywhere
Static elimination over areas at distances of 1 m or more using a ⌀12 mm diameter sensing head
Multiple Options
Choose from spot/nozzle models as well as ultra-compact bar models. Take advantage of focused, reliable elimination of static and dust in narrow spaces or throughout a limited space. Silicone probes are also available for use in environments where metal contamination is a concern.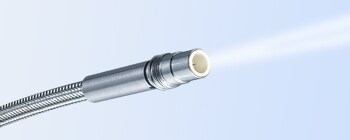 Ultra-fine Nozzle Standard probe type
With its ultra-fine nozzle of ø12 mm (ø0.47"), a 0.5 MPa high-pressure air purge is possible.
Ultra-fine Nozzle C.A.B.probe type
Five times less maintenance than conventional models.
Ultra-small Bar C.A.B.probe type
Innovative design significantly reduces the need for cleaning/maintenance.
Ultra-small Bar Silicon probe type
Suitable for environments in which metal contamination must be avoided.