High-Performance Micro Static Eliminators
SJ-M series
High-Performance Micro Static Eliminators
SJ-M series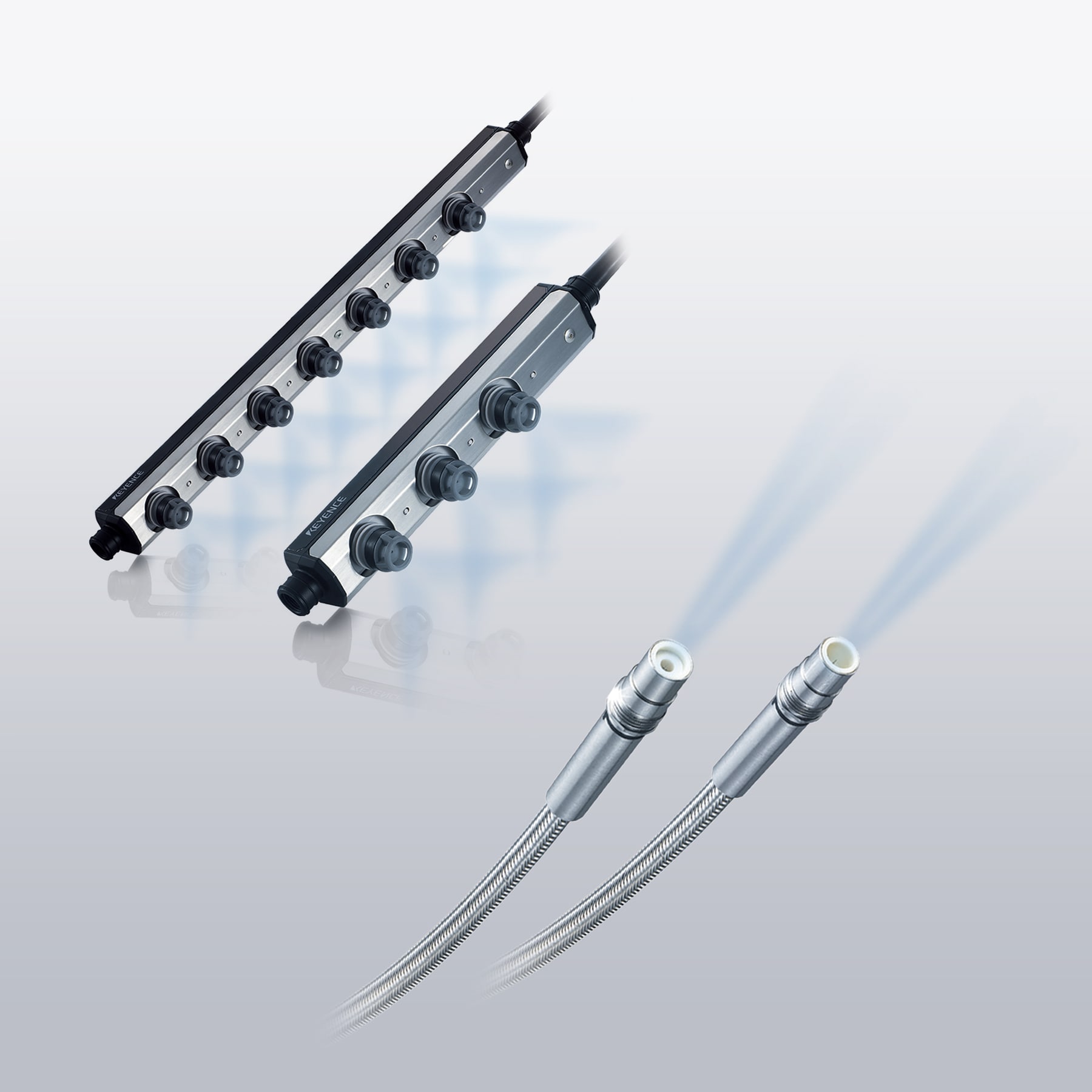 Ultra-Small Integrated Sensing Ionizer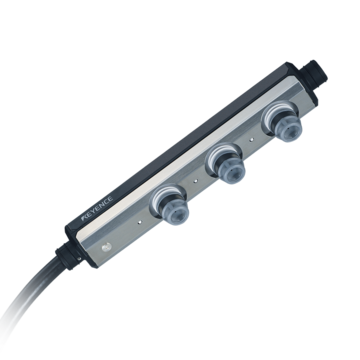 The high-performance SJ-M Series micro static eliminators are used as ultra-small embedded static eliminators. Spot nozzles and wide-area electrode probes are available depending on the required range of static elimination. Spot nozzles can focus on ionization and be built into a system designed to withstand high temperatures up to 80℃. The high-functionality controller indicates the static elimination status with an electrostatic monitor that shows the level of electrostatic charge of the target object, an ion level monitor that self-diagnoses and displays the ion level, and a condition monitor that displays and outputs an alarm when the static elimination effect is insufficient. In their small enclosures, the SJ-M Series micro static eliminators embody versatility that covers both spot and wide-area applications, a robustness that endures high temperatures, and best-in-its-class static elimination performance.
Applications
Removing static electricity in a part feeder

Prevent electrostatic discharge failures on bonding machines

Static elimination of pharmaceutical tablets after the forming process

Static elimination of metal molds
Features
Ultra-small Static Elimination Head Can Be Mounted Anywhere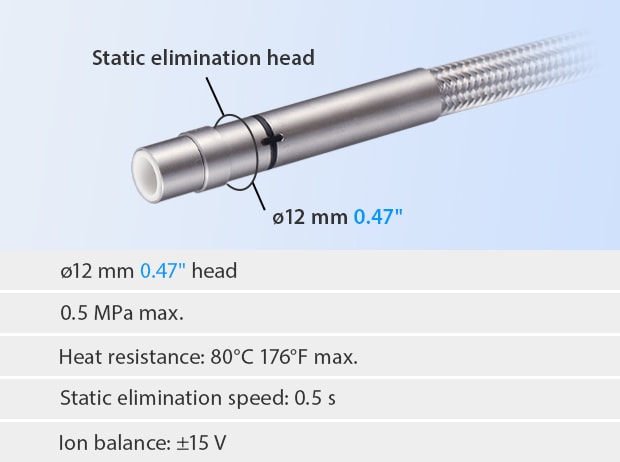 Since the SJ-M Series provides a direct static elimination structure that directs the ion generation point at the tip of the head, it allows for high-speed and high-precision static elimination where it is needed most.
Static Elimination over Areas at Distances of 1 m or More Using a ⌀12 mm Diameter Sensing Head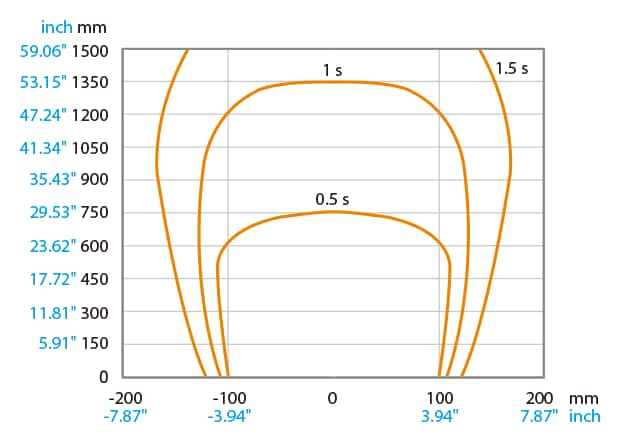 Static elimination range and time (typical) (Applied pressure of 0.5 MPa)
Remove static electricity from an area as large as 600 × 1500 mm using just a compact head. Eliminate static from more than 1 m away in under 1 second. Use branching to remove static electricity from inside devices.
Multiple Options
Choose from spot/nozzle models as well as ultra-compact bar models. Take advantage of focused, reliable elimination of static and dust in narrow spaces or throughout a limited space. Silicone probes are also available for use in environments where metal contamination is a concern.
Ultra-fine Nozzle Standard probe type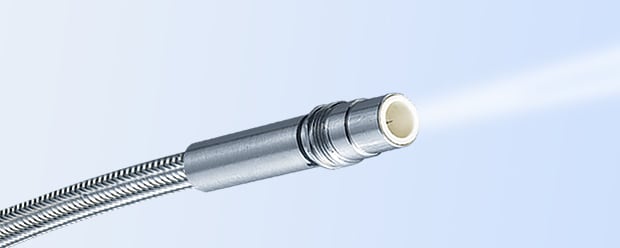 With its ultra-fine nozzle of ø12 mm (ø0.47"), a 0.5 MPa high-pressure air purge is possible.
Ultra-fine Nozzle C.A.B.probe type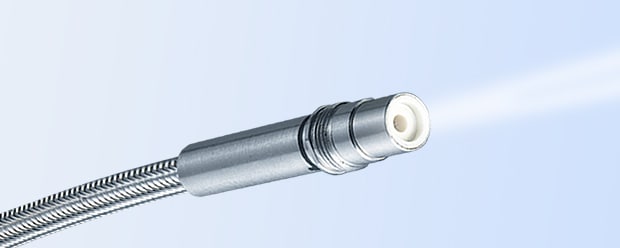 Five times less maintenance than conventional models.
Ultra-small Bar C.A.B.probe type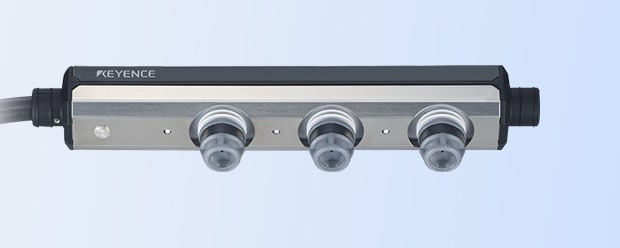 Innovative design significantly reduces the need for cleaning/maintenance.
Ultra-small Bar Silicon probe type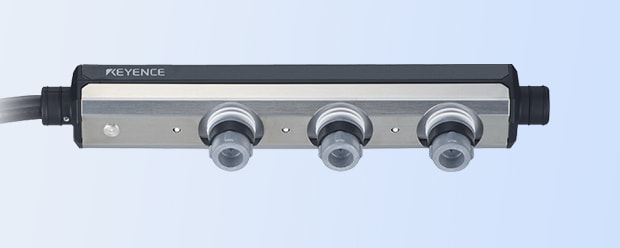 Suitable for environments in which metal contamination must be avoided.