High-Accuracy Digital Contact Sensor
GT2 series
High-Accuracy Digital Contact Sensor
GT2 series
A Digital Contact Sensor (LVDT) That Can Be Used Anywhere
Contact measuring instruments can be used in areas were non-contact sensors cannot. Thanks to KEYENCE's measuring range and stroke length options, our sensors can be installed even when space is limited.
High precision
No loss of accuracy throughout the measurement range
IP67G tough head allows for long-term use even in oily environments
Supports digital I/O, analog, digitial read out, and multiple communication protocols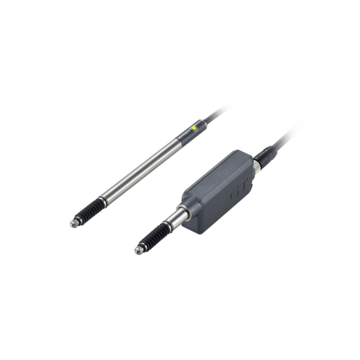 To increase longevity—a common challenge with contact-type displacement sensors—the structure of the main body has been fundamentally re-examined for the High-Accuracy Digital Contact Sensor GT2 Series. The structure, including the relay connector and cable, ensure stable measurement even in environments with splashing water or oil. In addition, the reduced weight of the spindle means minimal friction wear and significantly improved durability. A wide variety of sensor heads are available, including pencil type, air push-type, and low-stress type. The GT2 Series offers two types of detection methods: LVDT (linear variable differential transformer) and Scale Shot System II. This allows use across various applications. The varied lineup of communication units enables communication with PCs and PLCs from various manufacturers.
Need a Contact Sensor?
Take Advantage of Same-day Shipping!
With KEYENCE contact sensors, Same-day Shipping is available for all models!
KEYENCE is proud to support its customers with the shortest delivery times possible.
Applications
Camshaft runout measurement

Chassis frame warpage inspection

Wafer thickness measurement

Product chucking confirmation
Features
IP67G Oil-Resistant Design for Measurement in Machine Processing and Other Oily Environments
The sensor head - including the connector and cable section - are IP67G and NEMA Type 13 compliant. This means that stable measurement is achieved even in harsh environments containing splashing water or oil. In order to improve robustness - a common problem with contact sensors - careful attention was paid to the structure of the sensor body. The design incorporates a high-strength linear ball bearing and a seamless body for additional durability. In addition, the reduced weight of the spindle means minimal wear from friction and significantly improved durability. These design improvements reduce maintenance and equipment downtime.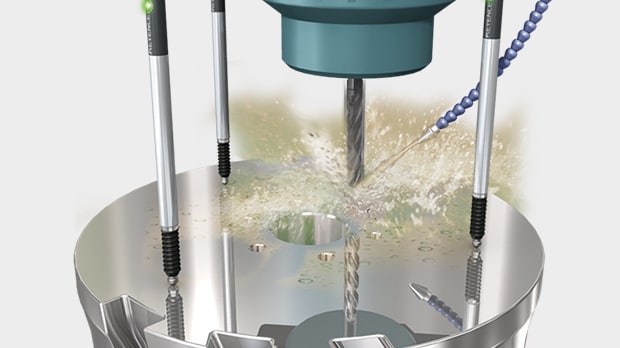 Disc assembly inspection
Choose from 29 Different Head Variations
The GT2 Series is available in a wide range of heads, including pencil, air, and low-speed pressure types. Choose a design most suitable for the application.
Select from a Variety of Communication Methods for Easy Integration
With an increased focus on traceability and IoT, the need to record values is becoming ever more pressing. KEYENCE sensors include a varied lineup of communication units capable of communicating with PCs and PLCs from various manufacturers. Simplified amplifier wiring makes it possible to greatly reduce wiring work.