High Power Digital Ultrasonic Sensors
FW series
High Power Digital Ultrasonic Sensors
FW series
Incredible stability with any type of target
FW Series high power digital ultrasonic sensors are super multi-reflective, non-contact level switches that can perform stable detection of any target. They are not affected by the color, pattern, luster, or transparency of surfaces, so they can be used for any target, including liquid levels, metal, and glass. The IP67-compliant sensor heads have excellent environmental resistance and emit powerful ultrasonic waves that penetrate some dust and dirt to detect workpieces. The newly included A.W.S. (active wave stabilizer) algorithm eliminates the influence of target vibration or ambient light. The N.O.D. (nearest object detection) function detects only the nearest target without being affected by the luster or shapes in the background. This makes it possible to perform stable detection of any target in any installation environment.
Features
Can be used for all types of targets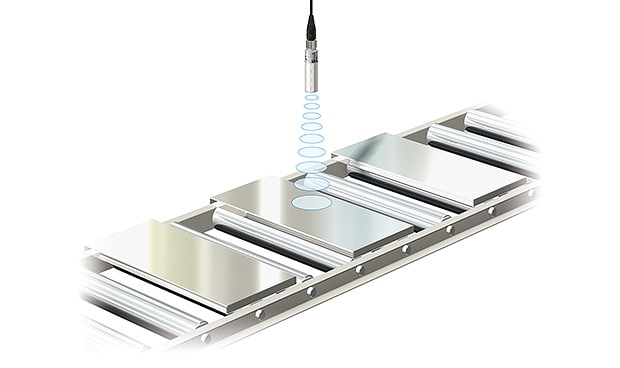 The FW Series easily detects metal, glass, liquid level or other targets that have been difficult to detect with reflective-type photoelectric sensors. Also, the detections are not influenced by the color, pattern, or luster of the target surface.
High stability and reliability
A new algorithm A.W.S. (Active Wave Stabilizer)* stabilizes detection while avoiding the influence of target vibration or external disturbances.
* The A.W.S. (Active Wave Stabilizer) function executes optimal processing according to the detecting condition and cancels fluctuations even when the receiving condition of the ultrasonic wave changes due to target vibration.
Resistant to mist and dirt
The intense ultrasonic wave penetrates dust and dirt and detects the target. Also, the sensor body is IP67 rated and has excellent environmental resistance.
The easily detachable connector is also IP67 rated.
Unaffected by the background
The N.O D. (Nearest Object Detection) function, which detects only the target located nearest to the sensor, eliminates the need to consider the background luster or shape. Reliable detection is ensured without taking measures such as tilting the sensor or changing the color of the background.