Optical Comparator (Profile Projector)
SPPF Inspections on its PVC extrusion Lines
Thanks to KEYENCE's IM Series instant measurement system, SPPF's operators measure the dimensions of extrusions without any risk of variability. As a result, the company has optimize the quality of its products and established processes for analyze production deviations.
16 extruders are used on the SPFF facility in Cholet.

For more than 40 years, SPPF has been designing and manufacturing innovative PVC garage doors as well as hinged, roller, and Bahama shutters that are tailored to the needs of its professional and private clients alike. The company produces its PVC components on its 16 extrusion lines, which operate around the clock. Most of its profiles and structural elements are certified by the French NF certification standard. "The NF standard requires that we do spot checks. We used to perform these measurements with calipers and gauges, but this had two drawbacks. First, the measurements were less accurate, particularly because of inter-operator subjectivity. Second, some inspections were impossible to perform, particularly in the case of curved parts and virtual points. Dimensional conformity is essential. It plays a vital role in ensuring that our products are properly assembled and function as they should," explains Philippe Bagot, quality manager at SPPF.

Parts to be inspected are sawn then placed on the stage of the IM Series measurement system. Each feature is measured automatically in a few seconds. "Our production teams are not metrology experts, so it was vital that the new measurement system be very user friendly. At the end of the day, the learned how to use the IM Series in no time," adds Mr Bagot.

KEYENCE's IM Series is an automated measurement system that is preconfigured to the parts to be measured. This task was undertaken by SPPF's quality department, which found it to be a breeze and relatively fast. "It's intuitive, simple, fast and hassle-free to learn," adds Mr Bagot.

The IM Series is an image dimension measurement system that obtains high-accuracy, reliable measurements in minimum time. Simply place a target on the stage and press the button. Up to 99 points are measured in a matter of seconds with a high degree of accuracy. Its automatic operation and repeatability of ±1 μm eliminating operator variability problems.

SPPF's extrusions are then assembled together into doors and shutters. "Most of our products are inspected on a test bed after rolling off the line. The IM Series allows us to conduct a hundred or so checks each day and to save them to our network. Now that we have accurate data, we can finally build a database of experience with subjectivity measurements. Although we're just starting, we're going to be able to define warning dimensions that will allow us to better identify production deviations and reduce waste," explains Mr Bagot.

Unlike conventional measurement systems, the IM Series digitally processes measurement data and automatically saves measured values. It can therefore be integrated into an ERP (enterprise resource planning) system. The IM Series also statistically processes data for analysis of statistical indexes, trends and variations. Critical statistical values (3 sigmas ) including minimums, maximums, averages, (6 sigmas ) and Cpk are automatically calculated and displayed. Group extraction settings can also be defined for statistical, analysis and inspection records. The trend graph/histogram function allows on-site analysis of production trends and variations.

"We also use the IM measurement system for our R&D and Methods departments. It's an invaluable tool for finely and accurately adjusting our extrusion machines, especially when we release new products."

"As soon as we saw the IM Series, we knew that it was what we needed. Still, we looked at other systems on the market and which were not necessarily based on the same measurement technologies. At the end of the day, other technologies were more expensive, less simple to use, and did not include data backup," says Mr Bagot.

SPPF is based in Cholet, France, and employs over 100 people.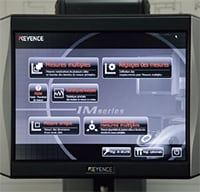 The IM dimensional measurement system is installed close to production lines.
View Catalog