Quantification of Fibrosis
Automatic batch measurement
Fibrosis of the heart is a phenomenon in which an excess of extracellular collagen accumulates. This phenomenon leads to the hardening of the myocardium, thereby causing a decrease in the performance of the heart.
In recent years, discoveries of factors that prevent fibrosis of the myocardium and research into regenerative medicine and similar areas have been progressing at high speed. Laboratory rats were prepared under various conditions, and then the All-in-One Fluorescence Microscope BZ-X800 was used to quantify the rates of fibrosis.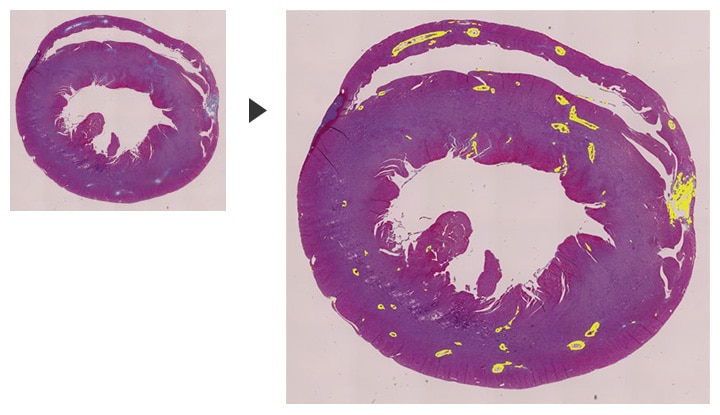 Objective lens: CFI60 CFI Plan Apo λ 4x
Image stitching: 3 images × 4 images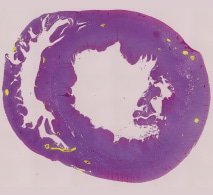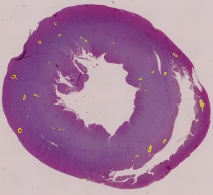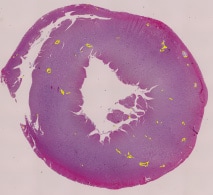 Using the All-in-One Fluorescence Microscope BZ-X800
When a slice of the target is too large to fall within a single field of view, images are captured while moving the stage and a high-resolution image can be created by stitching these images.
Even for tilted specimens or specimens that have height differences, it is possible to create an image in which the entire specimen is in focus. This is accomplished by capturing multiple images in the Z direction and stitching together only the parts that are in focus.
Hybrid Cell Count software can extract only fibrotic areas from the entire section and calculate the proportion automatically.
On the basis of the conditions extracted with Hybrid Cell Count, the Macro Cell Count can be used to process a batch of multiple images.
Here are some examples of using the All-in-One Fluorescence Microscope BZ-X800 in front-line research.