FISH
Counting chromosomes inside the nucleus
Counting chromosomes inside the nucleus
FISH (fluorescence in situ hybridization) is a technique used to detect distributions and amounts of specific nucleic acids (e.g., DNA, RNA).
FISH is used for applications such as detection of chromosome abnormalities.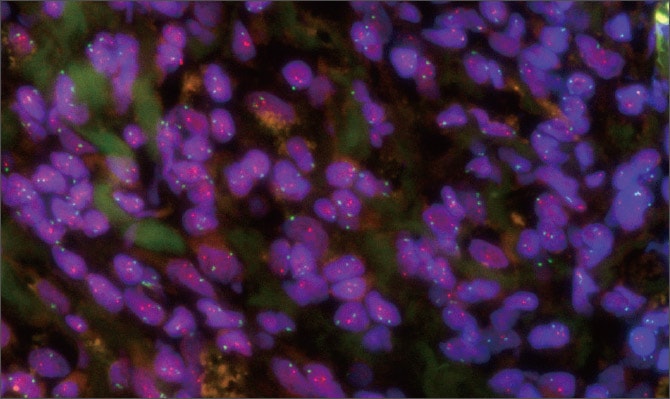 Conventional observation
Optical Sectioning
Objective lens:CFI Plan Apo λ 100xH
Sectioning + Z-stack
Count
Cell Count
With this feature, the area of interest can be extracted and its brightness, color, and profile can be measured accurately.
This easy-to-use software allows for repeatable, user-independent results.
Once you have the BZ-X:
The Optical Sectioning function makes it possible to eliminate fluorescence blurring and capture clear images.
A built-in Z-stack function captures multiple images at different focal positions and is able to create a fully-focused image by combining only the areas that are at their sharpest focus.
Chromosomes in each nucleus can be extracted and counted using Hybrid Cell Count.