Safety Laser Scanner
SZ-V series
Safety Laser Scanner
SZ-V series
Versatile, Easy to Use, and Truly Superior Safety Scanner
Impressive 27.5' range
Easily customizable zones
World's first integrated camera
Detachable display unit
Resistant to dust/debris
Network compatibility (CIP Safety, PROFIsafe, etc.)
Easy to navigate software
This series has impressive range (27.5′), is easy to integrate, and has multiple innovative features. It is the world's first safety scanner with integrated cameras and detachable display for remote access. Other advancements include improved environmental resistance, network capability (CIP Safety, Profisafe, etc.) and quickly customized zones.
Safety Via Networking / Supports CIP Safety & PROFIsafe
The SZ-V32NC(X), SZ-V32N(X), and SZ-VU32N models contain an abundance of networking options that offer a wide variety of beneficial features. From programming the unit remotely to controlling machine stoppage through a Safety PLC, the SZ-V Series can adapt to almost any need.
Extensive networking options
Improve efficiency & reduce costs with CIP Safety or PROFIsafe
Features
Visual Safety
The SZ-V is the WORLD'S FIRST safety scanner to have a camera built in to the unit. Capture images, and even videos, when an object or person enters the protected area.
True Superiority
Features like a detachable display, system memory plug and multi-zone monitoring further separate the SZ-V from other safety devices. Network communication through CIP Safety, PROFIsafe, Ethernet/IP®, PROFINET, or UDP is also possible.
Versatile
The SZ-V is very versatile as it features an 8.4m (27.56') protection zone, and 26m (85.30') warning zone. Horizontal or vertical mounting is also possible, allowing for any sort of area or access protection.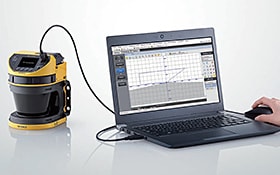 Easy to Use
Quickly customize any zone with the easiest software on the market.  A USB connection is all that is needed and creating a zone is extremely simple.