Fiber Laser Marking
Fiber laser markers are ideal for black-annealed marking and deep engraving into metal. Keep reading to discover how they work and what makes them different from other IR (infrared) laser markers.
Applications
Fiber laser markers have a 1090 nm wavelength, making them IR (infrared) lasers. Fiber lasers can mark a wide range of materials, though they are optimized for metal marking applications. Their high power makes them perfect for annealing and engraving applications, but they cannot mark transparent objects since IR light passes straight through.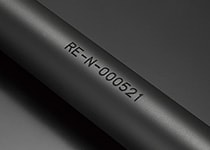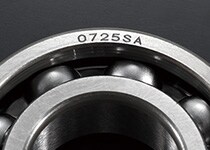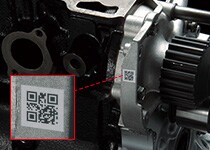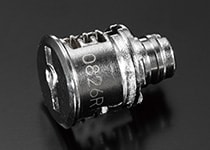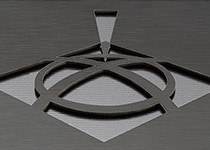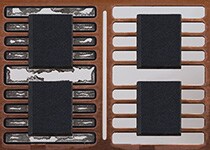 Mechanism and Characteristics of Fiber Lasers
Fiber laser markers are actually based on the same technology used for long-distance communication (optical fibers). A laser is efficiently amplified when it travels through an optical fiber, making it possible to produce a high-output laser.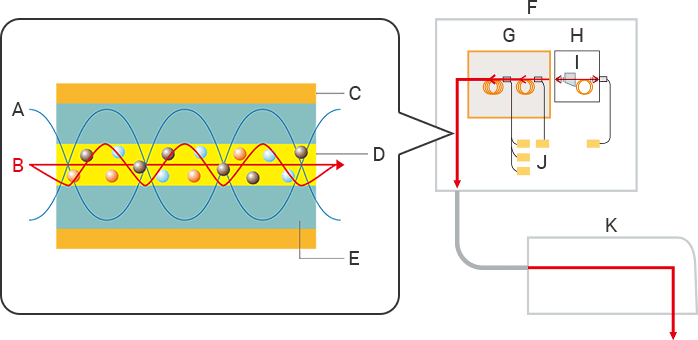 Feature: High-power laser engraving
Fiber lasers have a much higher output power than conventional laser markers. As a result, they're able to perform most applications at a much faster pace. Choose a fiber laser marker when you need a fast mark or a deep engrave on metal.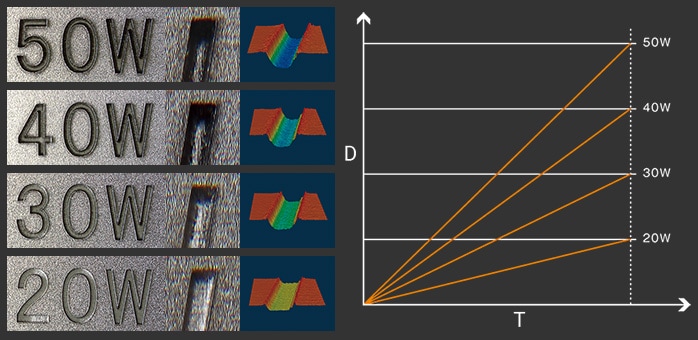 Differences With YVO4 Laser
Fiber laser markers operate in the same wavelength range as YVO4 laser markers, but there are significant differences in the way their beams are generated.
Fiber lasers are produced by optical fiber that amplifies the laser beam, but YVO4 lasers are generated using crystals as the amplification medium. The difference between the two is their peak power and pulse width.*
Fiber lasers are optimized for deep engraving and high-power marking applications. On the other hand, YVO4 lasers are suitable for high-contrast, low-damage projects.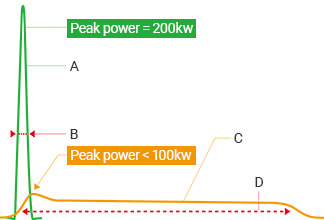 * Peak power: Maximum value of instantaneous output per pulse of laser beam
Pulse width: Time during which a pulse of laser beam is emitted
| | YVO4 laser | Fiber laser |
| --- | --- | --- |
| Nickel-plated marking | | |
| SUS engraving | Depth: 1 μm | Depth: 8 μm |
Product Introduction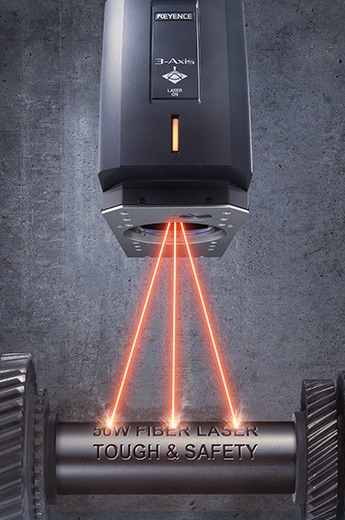 Best-in-class output
3-Axis Fiber Laser Marker
MD-F Series
50 W/30 W high power

The MD-F's high power output enables deep engraving and high-speed processing.

Scanner control for each application

MD-F laser markers optimize their scanner movement, providing better marks in less time for nearly every application.

Environmentally resistant, fan-less head

MD-F laser engravers are sealed off from the environment (IP64 rated) and boast a fanless marking head, making them robust enough to perform in dirty, dusty, wet and oily environments.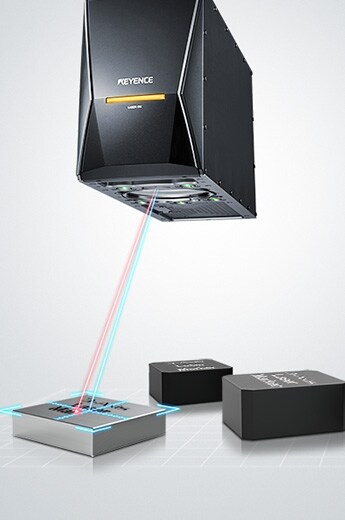 Automatic position and focus correction
3-Axis Hybrid Laser Marker
MD-X Series
Built-in vision

The MD-X series contains a camera inside the laser marking head which can automatically identify a target's shape. The laser marker can then adjust for X, Y and theta offsets to ensure the marking position is always correct.
The marking system is even able to distinguish between parts and mark each part accordingly.

Autofocus anywhere

The MD-X laser marker comes standard-equipped with a built-in distance sensor that enables automatic focal corrections. Eliminate manual height adjustments due to part variations in a few simple steps.

Data-driven analytics

The MD-X uses predictive maintenance to eliminate problems before they occur. In the unlikely event of a marking defect, the laser marker features a wide range of diagnostic tools to identify the root cause and deploy countermeasures.