Other Process
This section introduces actual solutions for various maintenance and laser marking inspection problems, as well as tips for introducing on-site operations.
Easy and Accurate Maintenance and Inspections
Problem 1
We were told that our laser marker is maintenance-free, but we'd still like to perform our own maintenance and inspections. We'd really like to measure the laser's power… but the marker is in the middle of our assembly line. Getting to it is difficult. Is there a way we can easily perform maintenance?
Solution: We recommend a laser with a built-in power monitor!
Choosing a laser with a built-in power monitor makes it simple to run maintenance and inspections once the unit is embedded. You can check the power regardless of the installation conditions. Corrections can also be applied automatically, which enables long-term, stable marking.
Conventional model
It is necessary to purchase an external device (power meter).
The power meter requires periodic calbration.
There are differences in the measurement results if there is even a minor misalignment in the point to measure and the focal point.
It is not possible to measure the power for each marking operation.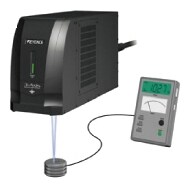 MD-X
Standard-equipped with a built-in power monitor.
No calibration is required, even if used for a long period of time.
Because the power monitor is built-in, anyone can obtain stable measurements results at any time.
Every marking operation's energy is measured and can be corrected.
Measuring the power of each marking operation enables more accurate marks. This is especially valuable when marking barcodes, because stable reading is essential.
KEYENCE guarantees stable power monitor operation immediately after the product is installed and after long-term use.
Reducing Erroneous Detections in Marking Inspections
Problem 2
We're laser marking electronic components, we're having trouble with erroneous visual detections. We've tried adjusting the camera used for marking inspections with no success. What should we do?
Solution: We recommend a laser with 3-Axis control!
Detecting fine lines on electronic components can be unstable depending on the marking inspection camera. Adjusting one variable (such as the camera's focal point) may temporarily resolve the issue, but changing the model or brightness later may result in unstable detection again.
3-Axis laser markers allow you to adjust the marking line width to a value that's easier to detect. Also, varying the beam spot size won't cause misalignment to occur.
Yield improvements are only possible when the marking equipment and marking inspectors are stable. That's why KEYENCE provides both.
Simplifying Marking Inspections
Problem 3
We want to externally verify that our laser marker is actually triggering when we tell it to mark. What's the best way to do this?
Solution: Detect laser light with KEYENCE's FT Series digital infrared temperature sensor!
The FT Series can detect temperatures ranging from 0 to 1350°C with a response speed of 10 ms, making it the fastest in its class.
The FT Series also has an IR mode capable of registering infrared light. Simply connect the device to the marking confirmation input on the laser marker's terminal block to check for the presence of marking.
Affordable marking confirmation is possible by combining KEYENCE's sensors and laser markers.