This section covers everything from how to select a laser marker to the tricks behind clear marking.
---
Marking vol.2
Q71
What happens when my target moves out of focus?
Laser markers typically provide their best marks when a target is at the focal point. The further a target is from the focal point, the less focused the laser spot is. This means the marking can become faint due to enlarged spots and decreased energy density. Below are some examples of what marks look like when a target moves out of focus.
Marking on steps
Marking on a slope
Marking on a cylinder

Marking on a cone
KEYENCE's range of 3-Axis Laser Markers solves all of the problems above.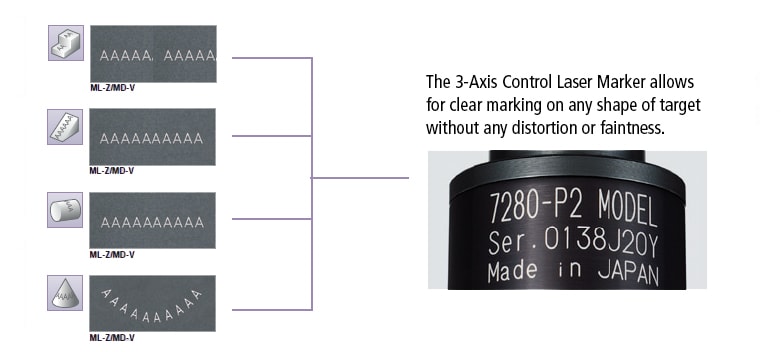 Combining a laser displacement sensor allows for in-focus marking as a target moves further or closer to the laser marker.
Click for details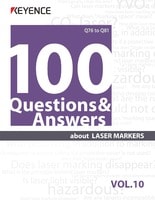 Q72
Is it possible to mark my company's logo?
Yes, KEYENCE's editing software, Marking Builder 2, allows for the use of various types of graphic data. Among these, DXF files created with CAD software can be easily loaded as logo marks. This makes it possible to quickly mark company logos as desired since it allows for flexible editing such as selecting the style of hatching and laser marking path.
Easy-to-use editing tool, Logo Designer
Click for details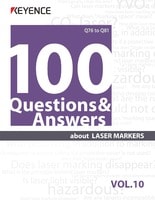 Q73
Are 2D codes readable when marked on metal targets?
Yes, they are. There are various methods for marking 2D codes on metal targets with a laser marker. For example, black marking is okay on target surfaces such as iron and stainless steel.1 On the other hand, black marks on a matte surfaces cannot be easily read with standard 2D readers. In order to solve this problem, readable 2D codes can be marked by creating a "polished" white background first with the laser and then a black 2D code on top.2
Click for details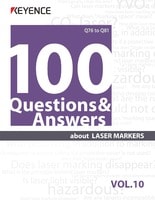 Q74
How difficult is it to mark ●,Poor, and ■ characters?
Simple shapes such as circles, triangles and squares, which are not as complex as logos, can be easily created with Logo/Custom Character Editor in KEYENCE's Marking Builder 2 software. This editing tool allows for quick, easy creation and manipulation of user-defined custom characters and font sets.
Logo/Custom Character Editor
Click for details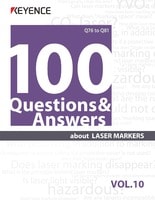 Q75
Is it possible to count or change values when marking serial numbers?
Yes, it is possible with the KEYENCE ML-Z and MD-V range of laser markers
The most common methods are:
Counting with a user configured internal counter
Sending external serial numbers via serial communication
The internal counter can respond to various cases since it is possible to change the number of steps, repetitions, and base of the count. In addition, it is also possible to reset the counter or count directly from the discrete I/O terminals.
Serial communication allows for configured counters or marking blocks to be changed directly as desired.
Counter settings
Q76
How can I ensure that a target will be marked within a given time frame?
The "Scan Speed Optimization" method allows users to automatically calculate the correct scan speed settings to complete marking within a given time frame. This function can be used to calculate scan speeds when marking moving targets as well.
Click for details