UV Laser Marking
Discover how UV laser markers work, when you should use one, and why their wavelength is so special.
Applications
UV lasers use a highly absorptive wavelength (355 nm) to mark parts. This high absorption rate allows UV lasers to perform "cold marking," ensuring that no extra heat stress is applied to materials, including those with high reflectance such as gold, silver, and copper. This minimizes soot and burrs caused from typical marking and processing.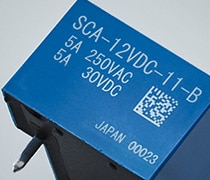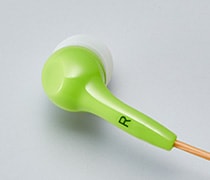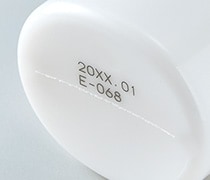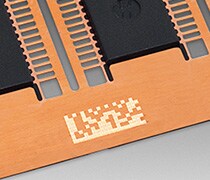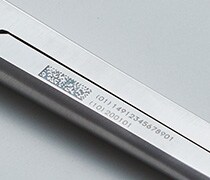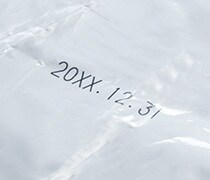 Mechanism and Characteristics of UV Lasers
By passing a standard wavelength laser (1064 nm) through a non-linear crystal, the wavelength is reduced to 532 nm. This light is further passed through another crystal, effectively reducing its wavelength to 355 nm. As a result, UV lasers are commonly called third-harmonic generation (THG) lasers.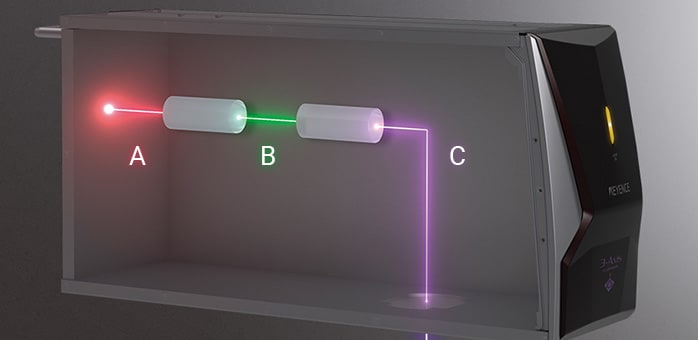 Feature: High-contrast marking
Compared with standard laser light (1064 nm) and green laser light (532 nm), UV laser light has a remarkably higher material absorption rate. This means the power does not need to be increased to create highly visible marks.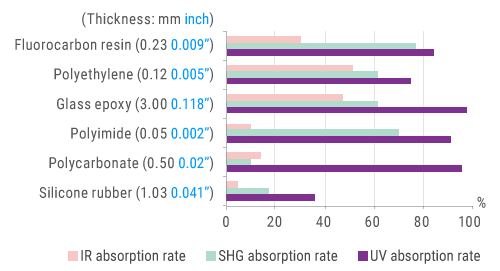 Marking comparison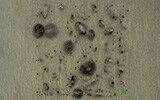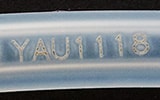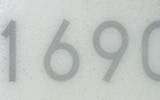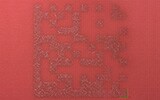 Feature: Damage-free marking
UV lasers can mark highly reflective materials like gold, silver and copper with minimal heat damage thanks to the high absorption rate of UV light. This minimizes soot and burrs, prevents surface damage and enables corrosion-resistant marking.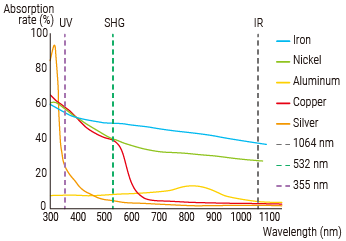 Electronic parts are becoming smaller and their sealing resins are becoming thinner. Typical laser markers risk transmitting energy through sealing resins and damaging the internal components. However, UV laser markers have an incredibly high material absorption rate and can mark sealing resins without affecting the internal components.

Marking comparison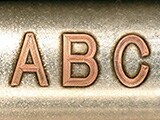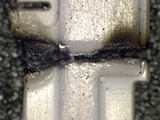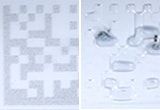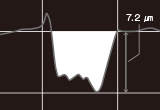 Product Introduction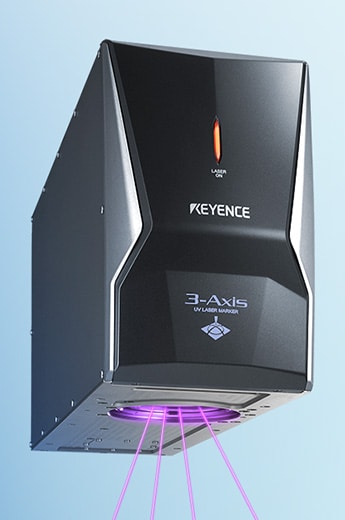 High-contrast and damage-free
3-Axis UV Laser Marker
MD-U Series
High-contrast and damage-free

The UV wavelength (355 nm) enables high-contrast, damage-free "cold marking." The MD-U series suppresses heat effects, burrs and yellow tinting to achieve nearly perfect part finishes.

High-speed digital scanner

KEYENCE's proprietary digital scanners and optimized controls enable accurate, fast marking.

Multi-function built-in camera

A built-in camera enables autofocus, 2D code reading and easy program adjustments.