CMM (Coordinate Measuring Machine)
KEYENCE Portable CMM Provides Machine Shop With Rapid Inspection Resource
Seattle-based Prototype Design Labs - a specialist in quick turnaround, high-mix, low-volume machining - is leveraging the advantages of a KEYENCE XM Series portable, benchtop coordinate measuring machine (CMM) to undertake in-process part inspection and shorten component lead times for customers.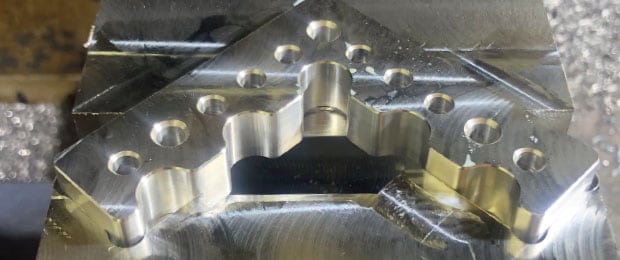 Brian Wadey, President of Prototype Design Labs, established the company in 2017, following a career as a Senior Prototype Design Engineer and CNC programmer in sectors such as medical, aerospace and education.
NICHE OPPORTUNITY
"I formed Prototype Design Labs to serve a growing research community in the Seattle area, which often struggles to find machine shops that can meet their demanding requirements," explains Wadey. "Initially, many of the parts we manufactured were for biology and cell research systems. Since then, however, we've added Xometry work into our mix."

Xometry is a major, US-based marketplace for on-demand industrial prototypes and production parts. Among the keys to being successful, being a Xometry supplier means moving from design to finished component as quickly as possible. Suppliers such as Prototype Design Labs visit a 'job board', where Xometry's algorithm posts jobs based on which partners have the right equipment and experience to complete the work successfully in the required lead time. Partners receive notifications that a new job is available and the first to accept gets the work.

"The main issue I had to address before working with companies such as Xometry was the need for a high-level inspection resource," says Wadey. "I'm familiar with conventional CMMs, but I was attracted to the simplicity, ease-of-operation, compact footprint and price of the XM portable benchtop CMM from KEYENCE. As soon as I saw it, I knew it was exactly what I needed."
SIMPLICITY AND SPEED
With no CNC programming and no moving parts, the KEYENCE XM Series is suitable for use by anyone, anywhere in the facility including the shop floor. The XM Series provides the ease of calipers, but the capabilities of a CMM. The XM features a handheld, free-angle probe, to allow measurement from any position. It also boasts on-screen tutorials, temperature compensation, and 3D CAD comparison and export functions. Optical technology enables freedom of approach with touch-to-measure operability. The XM utilizes augmented reality to overlay the 3D image on the probe-mounted camera image, simultaneously displaying measurement information on a live image of the part. This feature allows users without any previous CMM experience to intuitively understand the measurement process.
Following machining operations, Prototype Design Labs uses its KEYENCE XM Series to take critical measurements and determine if adjustments may be required on the company's CNC machines. This capability adds significant value, as it allows the business to finish parts faster and achieve quicker turnaround times. In turn, Wadey can take on more work and utilize his production equipment more efficiently.

"The XM provides many options to aid manufacturing and inspection," he states. "It's a great entry-level choice that is very easy to operate and has self-guidance as you go. In addition, we can create repeatable CMM programs for batch production runs and generate reports with augmented pictures showing how the inspection was done. We can also share CMM programs with other KEYENCE XM users."
Brian Wadey of ProtoType Design Labs enjoys the data interoperability between his CAM system and the software used to drive his Keyence XM Series CMM.
IN-PROCESS INSPECTION
Wadey says that the XM is ideal for prototyping and in-process inspection. By using dedicated tooling, such as the Lang zeropoint clamping systems on the company's five-axis machining centers, it is possible to move parts on and off the CNC machines and the KEYENCE XM for checking 'on the fly'.

"The XM is also great from a GD&T [geometric dimensioning and tolerancing] perspective, particularly when working with softer materials such as plastics, which can deflect during machining," says Wadey. "The world is moving towards modelbased definition, and the KEYENCE XM has a nice feature that allows the importing of CAD files [such as a STEP or IGES]. We can then align the coordinate system and check any deviation with the CAD model. The whole process is easy with the XM's handheld probe. I've been in the manufacturing sector for around 35 years, and I can remember the times when parts would sometimes take days to get through the inspection department. Not anymore."

Wadey also likes the absence of moving parts on the XM, which means nothing wears out. In addition, there are no annual maintenance fees.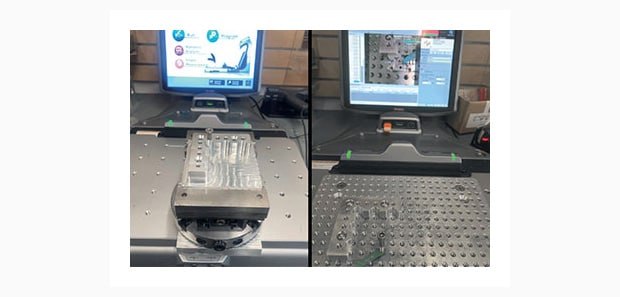 By mounting a quick-change workholding system to the XM Series's inspection stage, in-process measurement is both fast and easy. The Keyence XM Series gives ProtoType Design Labs the ability to measure true position, flatness, hole locations, and more in seconds.Brian Wadey says the XM Series is his go-to tool for measuring protype and production parts alike.
HIGH CONFIDENCE LEVELS
"Ultimately, since the KEYENCE XM arrived around 18 months ago, the confidence we have in our machined workpieces has gone through the roof," he says. "In our line of work, it's all about repeatability. We can use the XM to check a new part/ model, and at the same time, we are building a program that we can use later to check our correction-run components. It's a form of SPC [statistical process control]."

Beyond the technology, Wadey also has praise for the support from KEYENCE, which never wavered, even during the height of the Covid-19 pandemic, thanks to its online virtual service.

He notes: "Today, if I need some assistance, I simply send a file and KEYENCE provides advice on how to check a certain feature. You never stop learning, even with all of my experience. The response from KEYENCE is always really quick, often within an hour. I can't say enough good things about the support they offer."
View Catalog