Measurement System Types and Characteristics
Coordinate Measuring Machines
Overview
Conventionally, measurements were taken visually using an optical comparator or a measuring microscope. This required both experience and skill to operate the instruments, as well as time to perform the actual measurement.
On the other hand, a coordinate measuring machine measures the height, width, and depth of the target using image processing technology. In addition, such machines can automatically measure the target, record the measured data, and obtain special values through the use of various calculations.
Coordinate measuring machines are either contact models, known as touch probes, which use a spherical object to perform measurements, or non-contact models, which use other methods such as lasers. Some models designed for the automotive industry can even measure targets larger than 10 meters in size.
One example application is measuring the difference between a target and its diagram for molds, such as those used with automotive parts and for 3D objects such as mechanical parts. Following the recent spread of 3D printers, there is a new trend toward measuring the dimensions of existing parts and standard parts with a coordinate measuring machine, and creating prototypes based on this data with a 3D printer.
Construction and Applications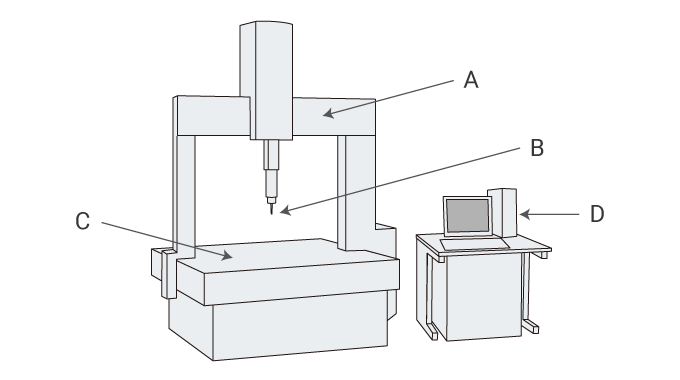 How to Use a Coordinate Measuring Machine
Place the measurement target in the metrology lab for at least 5 hours before measurement to allow the target to adjust to room temperature (generally 68°F). This will prevent errors due to thermal expansion.
Perform measurements by following the handling procedure of the machine.
The measured data can be imported into a PC where it can be used as 3D-CAD data.
Handling Precautions
Although some models can perform measurements on the order of 0.1 μm, correct usage and management are vital for measurement accuracy.
Verify that the moving parts move horizontally and vertically during use. Also, use a measurement standard or a similar object to check for indication errors.
In order to perform accurate measurements, allowing the temperature of the target to adjust to room temperature in the metrology lab is critical. Alternatively, the measurement parameters must be set to correct for any temperature difference.
For touch probes, it is important to ensure that the probe contacts the target at a constant speed during measurement.
The calibration interval for coordinate measuring machines is 6 months to 2 years.
The Latest Coordinate Measuring Machines
Recent models of coordinate measuring machines are able to quickly and easily measure complex dimensions without any required CNC programming, enabling the quick and easy measurement.
For more information about KEYENCE's latest coordinate measuring machine capable of shop floor operation, click here.